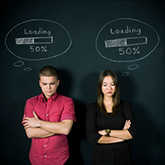 Weekly Astrology: March 9-15, 2014
Be Patient: This Week Will Pass

Communication matters take a nosedive early in the week, but they should fully recover by the weekend. Be sure to note this most important tip as you plan your week ahead!
See what's in store for you personally with a Horoscope Tarot reading, and here's the lowdown on the key cosmic events the week of March 9-15, 2014.
Tuesday, March 11: Mercury in Aquarius square Saturn in Scorpio
On Tuesday, Mercury in individualistic Aquarius will square off with Saturn in controlling Scorpio. You can guess this link might cause blocks in your ability to get innovative ideas off the ground. An authority figure may insist that you remodel your ingenious plans in a way that kills off what you consider necessary originality and flair. You won't be pleased.
Another possibility is that you'll feel frustrated or insecure about expressing yourself in the way you usually might. There is likely to be a lack of support for your ideas or a delay in negotiations. Be patient, and remember this too shall pass.
Thursday, March 13: Sun in Pisces trine Saturn in Scorpio
As a matter of fact, a happy exchange between the Sun and Saturn on Thursday will allow you to look much brighter in the eyes of an authority figure. In addition, you'll be able to handle your responsibilities with a hands-on, no-nonsense approach, as well as an undeniable feeling of faith in your ability to accomplish just about anything!
Friday, March 14: Mercury in Aquarius trine Mars in Libra
Then, by Friday, you can hedge your bets for the best communication all week. Mercury will be at a supportive angle to Mars in Libra. Mars is the planet of action and assertive drive, so with this link your mind will move at lightning speed and your actions will easily support your thoughts. The ability to "walk your talk" will be apparent.
In addition, you'll think quick on your feet if there's a sudden decision you need to make or if a change of plans is warranted. If there's an unexpected change in schedule, you'll easily roll with the punches. And if someone sends any fighting words your way, your rebuttal will certainly have an impact. Debate anyone?
Get more personal advice about life and love with a Horoscope Tarot reading »