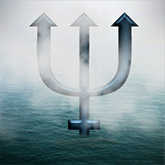 Weekly Astrology: May 13-19, 2013
Neptune surrounds us in a veil of fog all week

This week's cosmic weather is definitely "mostly foggy," thanks to a couple of stressed-out aspects planet Neptune will make.
When Neptune is behaving badly it becomes difficult to move forward with clarity. Often, bewildering situations arise and we're left scratching our heads wondering what just happened.
See what's in store for you personally with a 30-Day Astrology Forecast, and here's the lowdown on the key cosmic events the week of May 13-19, 2013.
Monday, May 13: Venus in Gemini square Neptune in Pisces
On Monday, Venus in Gemini will be at a square to Neptune. This is a classic aspect for delusional love. You're simply not able to see things clearly in matters of the heart when Neptune puts her magical haze over Venus. You'll see the best in your lover and easily overlook a potential flaw, or even an outright deception.
This energy won't cause your sweetheart to betray you, but if there's already something fishy in your relationship it's likely that you'll refuse to see it and insist that everything is coming up roses.
You'll want to be wary of any "too good to be true" opportunities with money, as well. Don't invest or agree to loan anyone money early in the week unless you're prepared to kiss your cash goodbye.
Wednesday, May 15: Mercury in Gemini
On Wednesday, Mercury will enter Gemini, where it will remain until May 31. Mercury is strong and dynamic here -- clever, intense and very intellectual. You'll have a decided mental edge because Mercury in Gemini will have you thinking quick and logically.
Your mind will be curious with Mercury in Gemini, and it's likely that over the next couple of weeks you'll decide to embrace a new learning experience. What a perfect time to take a class, catch up on your reading or pick up that writing project that has been on the shelf for way too long.
Saturday, May 18: Mercury square Neptune
While it's true that Mercury in Gemini will have you sharp as a tack overall, you're not likely to notice it much this week, unfortunately. Again, we can thank Neptune. This nebulous planet will square Mercury on Saturday morning, and when Mercury is not friendly to Neptune there are MAJOR problems in the communications arena.
This is the worst possible time to sign a contract, make a vital decision or agreement. In fact, Mercury square Neptune is right up there with Mercury Retrograde when it comes to these matters. That's because Neptune will literally cloud your judgment or put a misty confusion around an important decision or conversation. Information might be missing or -- even worse -- withheld.
The best thing to do with Mercury square Neptune energy is to focus your brain on anything imaginative. Save the rocket science for next week!
Watch your Insightful Astrology Weekly Video Horoscope now »