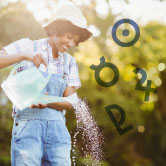 Weekly Astrology: May 2-8, 2016
High spirits

This will be the kind of week where you feel you can manifest just about anything! And you can. Read about the support from the cosmos here...
Tuesday, May 3: Sun trine Jupiter
Optimism runs high on Tuesday when the Sun is trine Jupiter. A benevolent spirit allows you to give your all and receive kindness from others in return.
Friday, May 6: New Moon in Taurus
A New Moon in Taurus on Friday will be an ideal time to plant seeds around what you want to achieve in the physical world. If you have a new financial goal, now is the time to flesh it out.
You might also decide to literally plant your garden now. This is symbolic, but can also be literal. What do want to grow in your life's garden? Plant accordingly.
During this positive New Moon, discover the impact of your own Moon sign with a Personal Moon Astrology Report!
Saturday, May 7: Sun trine Pluto
Finally on Saturday, the Sun will trine Pluto, supporting determination and will power to become the most vital and empowered person you can be. Get ready to move those mountains!