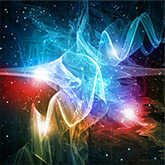 Weekly Astrology: May 20-26, 2013
Get ready for a big energy shift this week!

This week will pack a cosmic punch because we'll experience the revolution of Uranus square Pluto and a potent Lunar Eclipse all within a few days. You might not feel steady with the entire significant energetic shift happening, but that's OK -- the universe doesn't want you to stand in place!
Sometimes, the universe needs to light a fire under us to remind us to get moving. This will be one of those weeks, although admittedly it may be difficult for you to see past the smoke at first.
See what's in store for you personally with a 30-Day Astrology Forecast, and here's the lowdown on the key cosmic events the week of May 20-26, 2013.
Monday, May 20: Sun in Gemini, Uranus square Pluto and Mercury in Gemini sextile Uranus in Aries
On Monday, the Sun enters Gemini and Mercury (also in Gemini) will be at a gorgeous angle to Uranus, highlighting fast-paced thinking and communicating for all. If you have a flash of insight today it truly can be mastermind potential. The headline news, however, is all about Uranus square Pluto.
Uranus and Pluto have been rubbing elbows since 2012 and they'll continue to square off until 2015. On Monday, we'll receive an exact square between the planet of sudden chaos (Uranus) and the planet of elimination and transformation (Pluto).
Collectively, we'll feel this energy as it heats up world events and headline news. Social reform, political upheaval and government or corporate shake-ups are possible. On a personal level, there is surely an area of your life that is going through an intense revolution now. You might feel prompted to make a rash decision that can either be reckless or catapult you to the next phase of your personal development. Quite possibly, it'll be a little bit of both.
Friday, May 24: Mercury conjunct Venus in Gemini
By Friday, we'll experience a gorgeous dose of positive communication. Mercury and Venus will embrace in chatty Gemini, allowing plenty of talk-it-up energy that will bode well for negotiation and solidifying agreements. It'll be a great time to sign contracts.
If you're a writer or in the communications/sales industry, you may see an uptick in sales or royalties. And of course, if there's a vital conversation or meeting you need to have, this would be an ideal day to express your thoughts and ideas.
Saturday, May 25: Lunar Eclipse in Sagittarius
Although the link from Mercury to Venus is encouraging, the very next day will be a Full Moon Lunar Eclipse in Sagittarius. As a result, it's possible you'll have a tremendous amount of idealism attached to whatever was on your communication agenda the day before. You might want to see only the positive in a situation, rather than any negative, so be aware of this potential.
The major illumination from this Lunar Eclipse on Saturday will be felt for anyone with a personal planet or angle near 4 degrees of the mutable signs (Gemini, Virgo, Sagittarius, and Pisces). You may experience heightened emotions as you come to terms with letting go of something or someone that no longer serves a purpose in your life.
Sunday, May 26: Sun square Neptune
Saturday's eclipse has a significant Neptunian haze around it because it squares Neptune, and the Sun will square Neptune on Sunday. As a result, it'll be difficult to trust your instincts and make a solid decision.
Perhaps you'll be better off not making any difficult choices this Eclipse weekend, if possible. In fact, if you have an opportunity to do something that's constructively Neptunian, you should arrange it. This could be anything from yoga or meditation to taking an art class or practicing the musical instrument you play.
While you won't be able to escape the inevitability of deep emotions during this Eclipse, at least you can work towards putting these emotions in a place that helps you feel nourished during any time of uncertainty.
Watch your Insightful Astrology Weekly Video Horoscope now »