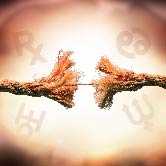 Weekly Astrology: May 25 - 31, 2015
There's tension in the air...

This might shape up to be the most difficult week in May. Get your cosmic advice on how to deal with the tension -- STAT!
Monday, May 25: Venus in Cancer square Uranus; Mars square Neptune
On Monday, Venus will square off with Uranus prompting an unexpected but radical shift in a romantic or financial matter. Making it worse is the fact that Mars will also square Neptune, leaving you feeling incapable of doing anything about it. This day might feel a lot like being hit by lightning one minute and then drowning the next. Go with the flow as much as you can and above all, be gentle with yourself.
Calm down this tumultuous week with insight from a Peace & Harmony Tarot reading.
Wednesday, May 27: Mercury Retrograde conjunct Mars
Friday, May 29: Mercury Retrograde square Neptune
Saturday, May 30: Sun conjunct Mercury Retrograde
On Wednesday, Mercury, now retrograde, will conjunct Mars and on Friday he'll square Neptune. Then, on Saturday, the Sun will conjunct Mercury. This could be an opportunity to review important communication matters that you were confused about a couple of weeks ago. You can make things right, but first you'll have to deal with the accompanying mental frustration. Don't initiate any new communication-related endeavors this week. Instead, make sure you focus on tying up loose ends from existing ones.
Sunday, May 31: Sun square Neptune
Finally, on Sunday the Sun will square Neptune. Again, your vitality won't be as strong as you'd like. The good news is that it's a great aspect for pursuing anything spiritual or imaginative. Even better, schedule a spa day for yourself and just "zone out." Soul nourishing activities are called for. Honor it.
Find calm in the chaos with a Peace & Harmony Tarot reading »