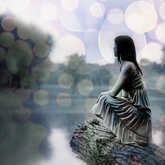 Weekly Astrology: May 29 - June 4, 2017
Outside your comfort zone

This week could have you feeling like a bit of a risk-taker! However, while you're feeling like stepping outside of your comfort zone in one area of your life, there's another that you'll be extra protective of. Keep reading for details...
Receive guidance for any situation you face this week from a 10-card Celtic Cross Tarot Reading.
Monday, May 29: Mars opposite Saturn
On Monday, Mars will oppose Saturn leaving you feeling as if you're trying to walk through glue. Don't be frustrated if plans take longer to execute. See the delay as a valuable opportunity to ensure you're getting it right.
Wednesday, May 31: Mercury trine Pluto
On Wednesday, Mercury will trine Pluto giving you a razor-sharp mind for research, negotiating, and interviewing.
Thursday, June 1: Venus trine Saturn
On Thursday, Venus will trine Saturn, offering financial stability and long-term security in romance. Don't worry if you think this is boring -- just wait until Saturday.
Saturday, June 3: Venus conjunct Uranus; Sun trine Jupiter
Venus will collide with Uranus and shake everything up on Saturday. You'll still have the security of Saturn to rely on, but Uranus will get you out of your comfort zone to at least take a small risk in money or romantic matters. The Sun will also trine Jupiter on this day, protecting all your endeavors.
Sunday, June 4: Sun square Neptune; Mars enters Cancer
Finally, on Sunday, the Sun will square Neptune while Mars enters Cancer. You might not be able to self-actualize as much as you'd like, but if you're a dreamer this day will be for you! With Mars in Cancer, you'll be motivated to protect domestic endeavors until July 20. If someone messes with your family, they better watch out!
Start your Celtic Cross Tarot Reading now for personal guidance »