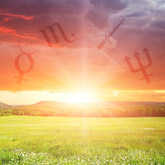 Weekly Astrology: November 17-23, 2014
You can't hide from reality this week…

Life might be serious and love might be unrealistic this week, but fortunately you'll retain hope for the future no matter what.
See what's in store for you personally with a Weekly Forecast Tarot reading, and here's the lowdown on the key cosmic events the week of November 17-23, 2014.
Tuesday, Nov. 18: Sun conjunct Saturn
On Tuesday, the Sun in Scorpio will conjunct Saturn, giving you a realistic (and in some cases grim) awareness of where you stand. The good news about this link is that you'll feel prepared to handle a situation head on -- there is no hiding from it. You'll also be able to accurately assess whatever changes need to happen in order for you to successfully triumph over any challenge.
Thursday, Nov. 20: Venus in Sagittarius square Neptune
Then, on Thursday, Venus in Sagittariuswill square off with Neptune. What a completely different energy this is compared to Sun-Saturn! With Venus-Neptune you might be completely unrealistic about a romantic or financial situation. You may choose to ignore the obvious flaws or even outright deceit.
Although forgiveness and compassion will run high on this day, turning the other cheek is not always the right thing to do. If you're ignoring anything difficult because you think facing it will be too painful, you'll only delay inevitable suffering.
Friday, Nov. 21: Mercury in Scorpio sextile Mars in Capricorn
On Friday, Mercury will sextile Mars, and you'll certainly have the courage to talk about whatever you need to -- in any area of life!
Saturday, Nov. 22: Sun in Sagittarius, New Moon in Sagittarius, and Mercury in Scorpio square Jupiter in Leo
When Mercury squares off with Jupiter on Saturday, you might not be able to stop talking!
Also, Saturday's New Moon in Sagittarius reminds us that the glass is always half full. No matter what, you'll be alright if you remain open to tomorrow and all its possibilities. The Sun moves into optimisitc Sagittarius this same day, so that should be even easier!
See what's in store for you personally with a Weekly Forecast Tarot reading now »