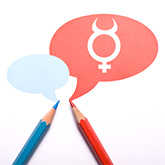 Weekly Astrology: Nov. 25 to Dec. 1, 2013
You have a green light to express yourself this week!

It's all about communication this week! Fortunately, the cosmic sky plans to fully cooperate with you as you go about formulating, strategizing, planning, conversing and negotiating.
See what's in store for you personally with a 30-Day Astrology Forecast, and here's the lowdown on the key cosmic events the week of Nov. 25 to Dec. 1, 2013.
Monday, Nov. 25: Mercury conjunct Saturn in Scorpio
On Monday, Mercury will be conjunct Saturn in Scorpio. With the planet of communication linked up to the planet of discipline, structure and responsibility, you'll have a gorgeous opportunity to focus on learning any material that requires serious brain power.
Long hours of research and study will be a snap today. In addition, any decision or agreement you make under this conjunction will stick, so be sure you mean what you say!
Wednesday, Nov. 27: Mercury in Scorpio sextile Venus in Capricorn
On Wednesday, Mercury will be at a fortunate angle to Venus in Capricorn, adding incredible support to any financial negotiation or conversation about love and commitment. If you have any type of business-related meeting scheduled this day you'll find that your ideas are valued and your talents are appreciated.
Thursday, Nov. 28: Mercury in Scorpio trine Jupiter in Cancer and Mercury in Scorpio trine Jupiter in Cancer
It gets even better on Thursday, as Mercury in Scorpio will be at a perfect trine to Jupiter in Cancer. The planet that rules the lower mind (Mercury) connects to the planet that rules the higher mind (Jupiter), allowing an effortless ability to collect information and share the nuggets of wisdom you collect from that data. This is an ideal aspect for writing, publishing, teaching and public speaking. Your words will flow easily and they'll also inspire.
It goes without saying that from Monday-Friday you'll have an extraordinary cosmic green light to do anything communications related. This level of support to Mercury is rare and incredible, so be sure to use it in any way you can.
Also, don't forget that Mercury is in charge of sales and short distance trips. If you've got a big ticket item to purchase, this is the week to do so. And if you happen to be taking a little getaway, expect to have easy, stress-free travels.
Venus will also oppose Jupiter on Thursday, expanding the positive and indulgent potential for all. You will certainly be high on hope!
Saturday, Nov. 30: Sun in Sagittarius trine Uranus in Aries
Last but not least, the Sun in Sagittariuswill be at a brilliant trine to Uranus in Aries on Saturday. This is eclectic "free to be you" energy at its best! The universe will shine a light on your capacity to express something about yourself that is unique and inventive.
Now is not the week to hold back ... rock on!
Don't forget to look at your month ahead with a personal 30-Day Astrology Forecast »