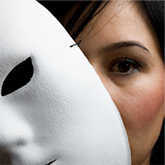 Weekly Astrology: Oct. 21-27, 2013
You can't hide from the truth this week!

It has been said that we are only as sick as the secrets we keep. If there's any sign that knows about mysteries, it's Scorpio. Scorpio has the ability to penetrate straight through to the truth and uncover what someone is trying to hide -- even if it's you trying to hide something from yourself!
See what's in store for you personally with a 30-Day Astrology Forecast, and here's the lowdown on the key cosmic events the week of Oct. 21-27, 2013.
Monday, Oct. 21: Mercury Retrograde in Scorpio
On Monday, communication planet Mercury will turn retrograde in Scorpio, the most emotionally intense sign. With Mercury Retrograde until November 10, there will be a striking opportunity for all of us to reconsider what we're trying to keep covered from the world and ourselves and whether or not this is the correct course of action to take.
Flying under the radar is Scorpio's specialty, but with Mercury out of sorts it might suddenly become more difficult to do so. If there is a secret that has been haunting us, we may finally decide to let it out. Ultimately, this will set us free -- even if there are consequences to such honest revelations.
While it's true that this particular Mercury Retrograde cycle has incredible spiritual and soul growth value, at the same time it is Mercury Retrograde and it won't be without its share of frustrations.
As usual, be wary of signing contracts, making a major purchase or other significant decision during this time. Some information might be missing and you may need to make a change after Mercury turns direct if you can't wait this cycle out.
There will be a strong potential during this cycle to uncover mistakes that have to do with accounting or your shared financial world. Consider reviewing your stock portfolio, have a conversation with an advisor to reassess your retirement plan, or review your health and insurance benefits. Any of these areas might benefit from examination.
Wednesday, Oct. 23: Sun in Scorpio
On Wednesday, the Sun enters Scorpio, adding to the intense focus on all that is beneath the surface.
Friday, Oct. 25: Sun trine Neptune
Fortunately, on Friday, the Sun will make a gorgeous link to Neptune, the planet of spirituality and unconditional love. With this trine aspect you'll find a greater sense of compassion and human understanding in the air.
Pursue your spiritual or imaginative interests with vigor and consider including an art, music or even a supernatural event in your weekend plans. Pay close attention to your dreams or any premonitions you may have during this time because your psychic antennae will be especially sharp now.
Can you feel it?
Don't forget to look at your month ahead with a personal 30-Day Astrology Forecast »