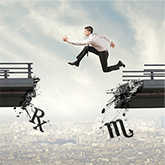 Weekly Astrology: Oct. 28 to Nov. 3, 2013
This week is going to rock your world!

This week it appears a communication review is in order. Thankfully, with Mercury Retrograde hitting several planets, you'll have an opportunity to make a positive revision when it comes to your line of thinking or in any type of writing or decision on your plate.
See what's in store for you personally with a 30-Day Astrology Forecast, and here's the lowdown on the key cosmic events the week of Oct. 28 to Nov. 3, 2013.
Tuesday, Oct. 29: Mercury Retrograde conjunct Saturn in Scorpio
On Tuesday, Mercury Retrograde will connect to Saturn in Scorpio -- an aspect it already made on October 8, when Mercury was direct. You might notice that an important matter or weighty decision from October 8 now comes back into your life, demanding a second look.
Recognize that with Saturn, whatever this situation is will be serious and will have significant potential for endurance. If you're sure you want something to last, make it happen with a strong Saturn aspect. If you're waffling, however, now will be the time you renege on your original decision.
Thursday, Oct. 31: Mars in Virgo trine Pluto in Capricorn
On Thursday, expect to make exceptional strides in any activity that requires courage to pursue what you want. Mars in Virgo will be at a perfect trine to Pluto, allowing you to maintain control over your actions. Not losing your composure or temper will help you sail through the stickiest situation.
If you're involved in any activity that requires physical strength, you'll have an added boost now.
Friday, Nov. 1: Uranus square Pluto and Mercury Retrograde sextile Mars and Pluto
On Friday, we receive another hit of the famous Uranus-Pluto square that has been rocking our world since 2012. If you have any personal planets or angles near nine degrees of a Cardinal sign (Aries, Cancer, Libra, Capricorn), your life may undergo yet another significant change.
There's no point in resisting the shifts these days. Accepting what needs to crumble and having the wherewithal to build anew will be instrumental, encouraging growth from these rapid-fire changes in your world. You might even be the one instigating the changes.
There will be more positive communication aspects to Mercury Retrograde on Friday, too. A sextile to both Mars and Pluto will allow you to follow through with your revised thought process or decision.
Sunday, Nov. 3: New Moon Solar Eclipse in Scorpio
Then, on Sunday, a potent New Moon Solar Eclipse in Scorpio will open you up to a significant opportunity to face one of your deeper fears. This will challenge you to achieve real intimacy with someone close. Are you ready?
Don't forget to look at your month ahead with a personal 30-Day Astrology Forecast »