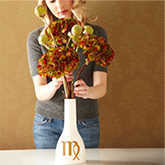 Weekly Astrology: September 2-8, 2013
Take time for health, happiness and healing this week

New Moon, new beginnings. That's what it's all about this week. And in comparison to last week's nonstop parade of astrological events, life may seem quieter -- but certainly not boring. In fact, you just might find that you've got time to spend on the things you most enjoy.
See what's in store for you personally with a 30-Day Astrology Forecast, and here's the lowdown on the key cosmic events the week of Sept. 2-8, 2013.
Thursday, Sept. 5: New Moon in Virgo
Is there a project you've wanted to begin but have kept on the shelf due to time considerations? You may finally decide to initiate this endeavor this week. If so, it's likely to be a smashing success. That's the power of Thursday's New Moon in Virgo.
Virgo is the sign that symbolizes productivity, efficiency and fine attention to details. With this gorgeous New Moon, you'll have an incredible window of opportunity (about 10 days) to launch anything that requires diligence, hard work and a practical, hands-on approach.
Now will be the perfect time to clean out your closets and reorganize drawers around the house. That's right, even the "junk drawer" in your kitchen! You'll find that it's easy to tackle any type of organization or cleaning project, whether at home or in the office.
Consider setting up a new filing system for important documents -- either paper or online versions. This will be a great time to practice a little Feng Shui to your office and home, as well! Are you looking to make a job change? Well, you're in luck! The Virgo New Moon is a wonderful time to polish up your resume and circulate it. You'll be interviewing in no time!
Are you the boss? Then perhaps you need to hire a new staff member. If you hire anyone now, you're likely to be especially pleased with his or her job performance. Even if you're not in charge of your own business, you might hire another type of helper. This can be anyone from a nanny or housekeeper, to a gardener or contractor. Again, you'll be pleased with your selection.
If you do freelance work, an enticing assignment may now come your way. Reach for the work projects you want -- the universe is here to help!
In addition to the work and organization of things, Virgo is also concerned with health and healing. A New Moon in this sign is a prime time to hire new doctors or other health care providers. Make that dentist appointment or schedule an overdue eye exam. You might also decide to read up on a health care topic or research alternative healing options.
And, of course, this will be a great week to join a new gym, hire a personal fitness trainer or nutritionist, or to begin a course of treatment for any existing illness.
Saturday, Sept. 7: Sun sextile Jupiter
On Saturday, the Sun in Virgo will be at a gorgeous sextile to Jupiter. This happy connection could bring a lovely dose of luck your way -- most likely relating to home and work projects.
You might decide to spend money on your home office or commit to a job with a relative. Don't worry, all will be well. The Sun and Jupiter only want to offer you blessings. Let it happen!
Don't forget to look at your month ahead with a personal 30-Day Astrology Forecast »