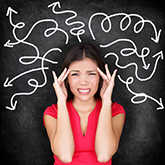 Weekly Astrology: September 21 - 27, 2015
No rest for the weary

There's so much going on in the cosmic sky this week that you might need to take notes. Fortunately, they're already right here for you. Study away!
Tuesday, September 22: Venus trine Uranus
On Tuesday, love planet Venus will be at a perfect trine to Uranus, dazzling all of us with brilliant excitement in the romance department. This might also be a financial windfall so be sure to pay attention to what flies your way!
Get more personalized guidance for your week ahead with a Weekly Forecast Tarot reading now!
Wednesday, September 23: Sun enters Libra and sextiles Saturn
Then, on Wednesday, the Sun enters partnership Libra and immediately makes a supportive sextile to Saturn. There will be a certain level of stability you feel in at least one close relationship and on this day you'll know that no matter what, you can rely on this person.
Thursday, September 24: Mercury Retrograde square Pluto; Mars enters Virgo
On Thursday, Mercury, now retrograde, will square off with Pluto and it's possible that you'll discover information you wish you didn't know about. The trick is how you handle things now that you do know. Proceed with caution. Since Pluto will turn direct on Friday, there's more of an emphasis on the potential to misuse the information you gain. Also on Thursday, Mars will enter Virgo where he'll remain until November 12. You'll have a remarkable ability to take productive action that will improve your health and overall work efficiency. Use it!
Friday, September 25: Pluto Direct; Mars square Saturn
Even though Pluto is turning direct, you could still feel a temporary block on Friday as Mars squares off with Saturn. Don't be deterred. See it as an opportunity to decide what it is you want to focus on the most. Then, follow through.
Sunday, September 27: Lunar Eclipse in Aries
The week closes out with a potent Supermoon Lunar Eclipse in Aries on Sunday night. You might feel a significant level of frustration in matters of personal development. As a result, this eclipse may push you to part ways with how you've been going about achieving what it is you want most. Ultimately, although it may initially feel like a loss, try to keep your eye on the prize. Sometimes, in order to be true to oneself, a few battle scars are necessary. Eventually, you'll display them with pride. Why? They make you who you are.
Get a Weekly Forecast Tarot reading for a deeper look at your week ahead »