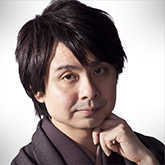 Ryuji Kagami, Astrology Author
Japanese Psychological Astrology Researcher, Author

Japanese Psychological Astrology Researcher Ryuji Kagami brings 30 years of Astrology expertise to the United States and Tarot.com. Kagami is a celebrity in Japan, well known for authoring and translating more than 100 books about Astrology, Tarot, divination and mythology, and for his many appearances on TV and radio.
Kagami was born in 1968 in Kyoto, Japan, where his mother is a leading expert on teaching the art of the kimono. Kagami is pictured wearing a kimono because he is deeply in touch with his roots and his traditional Japanese culture.
He became interested in Astrology at a young age, and he first began writing about it as a teen. His articles in the Astrology magazines made him a sensation in Kyoto, and he published his first book when he was in college.
In college, Kagami thought he would become a banker, but he had already started to make a name for himself and it soon became clear that Astrology was his destiny. He graduated with a Masters of Art in Comparative Culture, and Astrology has been his career ever since. He has amassed many fans and followers for his unique psychological approach to divination.
Kagami is also well known in England, where he has collaborated with other famous astrologers, including Maggie Hyde. He is a member of the Astrological Association of Great Britain (AAGB) and the Association of the Professional Astrologers International (APAI).
Kagami is currently based in Tokyo, where he continues to research and write books about Astrology. Kagami's first three books in a series of 12 books on the zodiac signs are now available in the U.S. You can find the first three books at the following links:
Kagami also translates the works of a Jungian psychologist; writes Astrology columns for popular magazines; and does Astrology reports and Tarot readings. He is a board of member of Japan Transpersonal Association, and a guest professor at Heian Jogakuinn University and Kyoto Bunkyo University, where he recently began teaching classes on Astrology and Pyschology as a part of "Transpersonal Psychology" unit.
Ryuji Kagami's contributions to Astrology include the translation of important books on Astrology into Japanese, such as Liz Greene, Nick Campion, Maggie Hyde, Thomas Moore, James Hillman's works.
Hometown: Kyoto, Japan
Sun sign: Pisces
Hobbies: Cooking, collecting ancient books
Favorite food: Red wine and meat