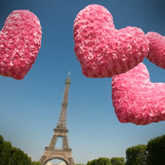 Romance, Parisian Style

On my way to represent the Divination Foundation and Tarot.com at a "Centers Gathering" conference in Findhorn, Scotland -- one of the original spiritual teaching centers -- during this, its 50th anniversary year, I am passing through the city of beauty, art and romance: Paris, France. I love this place.
For all of the modern excesses of romance addiction and fairytales (as discussed in a previous blog), the French experience of life teaches a lot about the positive side and value of romance. It infuses everything about this place, including the gently flirtatious way people socially relate to one other ... even the language is sensuous!
Even though there are countless museums and galleries containing the world's greatest treasures of art, you don't have to go indoors to find beautiful art. Just go to the parks (or cemeteries), where elegant statues abound. Or, just note the exquisite stylization of buildings, the metro, and the streets themselves; above all, the sensuousness of the cuisine and its artful presentation!
Parisians seem to understand that romance is the spice of life and -- like the best use of all spices -- they indulge it in moderation, while never forgetting to give it the respect it deserves. My friend, archetypal astrologer Lynn Bell, who has lived in Paris for 30 years (and whose interview by me you can check out via the Divination.com podcast), agreed with my joke that perhaps the reason the French are more willing to overlook affairs and mistresses is because they think it's a crime to pass up any opportunity to fall in love ... ha!