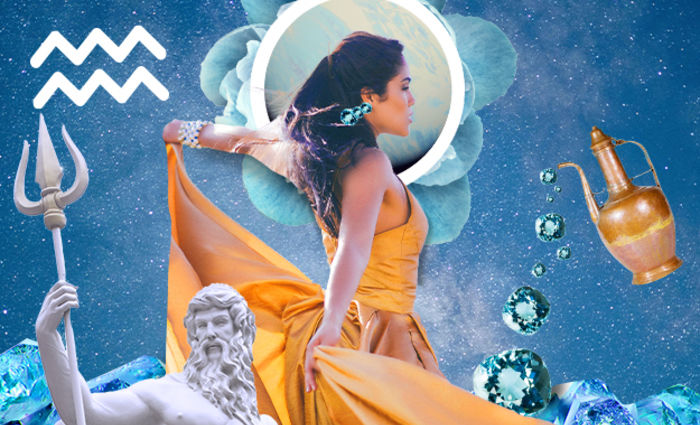 Aquarius 2020 Horoscope
A powerful release
You're earning your keep in 2020, Aquarius, and this isn't about money. It's your spiritual keep -- your emotional and mental resilience that has been tested for far too long in your world. In January, you might have a turning point where you finally give yourself permission to drop the weight you have been carrying. Just let it go. It can be anything from grief and loss of someone you loved that has continued to haunt you to something more concrete such as a professional situation that you just can't seem to triumph over. As a result, you might very well step into the New Year ready to walk away and let it go -- including your emotional attachment to the outcome of what you know you can't control.
Reveal what's happening for YOU in 2020 with personalized Astrology predictions »Reveal what's happening for YOU in 2020 with personalized Astrology predictions »
Ironically, as you do this (and it will be prompted by the January 12 Saturn-Pluto alignment in your 12th House of Contemplation) it will help you see exactly how powerful surrender can be. It will somehow help you heal and refocus your goals as well as help you to make peace with the fact that life isn't always about chasing success. Creating stability begins within. In 2020, you will become a master at this Aquarius.
Accepting responsibility
From March 21 - July 1, Saturn, the planet of maturity and discipline, will touch your sign for the first time in nearly 29 years. This will give you a major realization that the only way to have any control over your life and direction is to take personal responsibility for the choices you make. By this time, you will already have released yourself from any fear or insecurity concerning past choices that didn't work out, so it won't be about the past now. Once Saturn is in your sign, it will be about your present situation -- where you are now. You're going to make a commitment to yourself and your personal growth that astounds you, Aquarius. And between December 17 and March 2023 when Saturn is in Aquarius full time, you will see this commitment through.
Reveal what's happening for YOU in 2020 with personalized Astrology predictions »Reveal what's happening for YOU in 2020 with personalized Astrology predictions »
What the heart wants
In other news, your love life situation will become quite noteworthy, especially from May 13 - June 25 while Venus is traveling retrograde through your romance sector. This might be a textbook case scenario of you having an opportunity to reconcile with an ex-lover, but it can also be about re-evaluating your ideas about love, sex, and dating. There is more than one possibility and you'll likely realize that opening your heart in situations that are not black and white, but rather many shades of gray, is exactly what you need to do in order to open it fully.
Your domestic life will also continue to evolve in 2020 thanks to Uranus moving through Taurus and your home and family sector. While Venus is retrograde, it's possible that a situation with your children or with your in-laws will need attention. Don't worry, everyone really does want the same thing: peace. You might all have different ideas of how to achieve it, but during the Venus retrograde cycle, it will all get worked out.
This might also be a time you decide to revisit a creative endeavor that used to bring you joy. Why did you stop? If it makes you smile, you should do it. And during this Venus Retrograde cycle, you are likely to realize that what brings your heart happiness is truly what you should be focused on. In 2020, Aquarius, you will discover that your primary responsibility is to yourself and your contentment. Getting there will be quite the ride, but oh so worth it.
Reveal what's happening for YOU in 2020 with personalized Astrology predictions »Reveal what's happening for YOU in 2020 with personalized Astrology predictions »