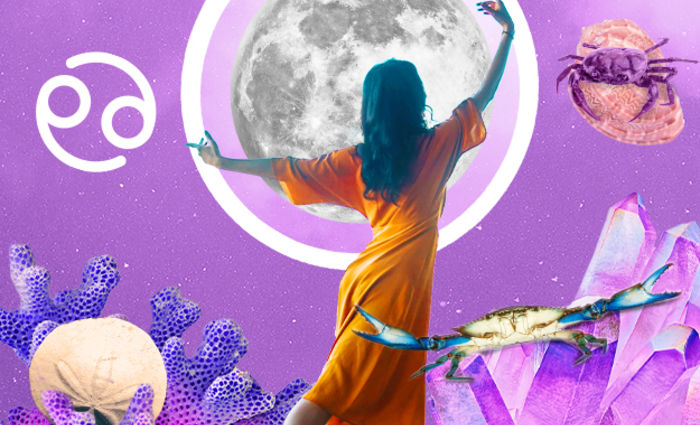 Cancer 2020 Horoscope
The realities of relating
From the very start of 2020, you'll likely feel intense pressure around a close relationship. This can be business, personal, or both, but it will surely test every ounce of your strength. It might not even be that your relationship itself is under duress, but that your partner is just going through the mill. A Lunar Eclipse in your sign on January 10 will leave you feeling extremely emotional about a situation with your mate. Then on January 12, Saturn and Pluto will line up in an epic conjunction right in your partnership sector. You might feel powerless as you watch your loved one go through something that you're not sure you can help with. If it is a troubled relationship you're dealing with, you might start the year with the realization that it's time to call it quits.
All doesn't have to be lost, however. With Jupiter in your partnership sector until December 19, you will have incredible support to expand on what's right between you and your mate. In Capricorn, however, this will only be if you are both willing to become as real as can with one another. No games. Thanks to Jupiter's support, a relationship that's under stress can absolutely make it in 2020 if you're both determined to work through it. In fact, the potent conjunctions between Jupiter and Pluto on April 4, June 30, and November 12 might turn you two into a veritable power couple after all the hardship! The same goes true for business connections.
A series of eclipses finishes up in your sign and your partnership sign on June 21 and July 5, helping you set the stage for that new beginning in relationship matters. And if a partnership did end earlier in the year, this could signal the start of something new with someone who is even more suited to you.
Reveal what's happening for YOU in 2020 with personalized Astrology predictions »Reveal what's happening for YOU in 2020 with personalized Astrology predictions »
Retrograde rest stop
Aside from the emphasis on love and relationships, 2020 might also be a year of professional re-alignment. Mars will retrograde at the top of your chart starting September 9 and, until November 13, might leave you feeling like you've lost your mojo in terms of professional ambition. You may simply run out of steam in continuing to pursue a goal. Or, you might realize that you're no longer interested in the rat race of competition and getting ahead -- you'd rather do something that makes you feel sparked. If that's the case, you just might have struck gold with this retrograde. When you stop pushing so hard, you'll realize what you really want.
Reveal what's happening for YOU in 2020 with personalized Astrology predictions »Reveal what's happening for YOU in 2020 with personalized Astrology predictions »
Rising up
Eclipses also begin touching on your health axis this year for the first time in many years. The first, on June 5, will occur in your 6th House of Health and Routine at the same time Venus is retrograde in the opposite house, the 12 House of Hurt and Healing. You might realize how much a financial or romantic crisis that you haven't dealt with is now taking a toll on your physical and emotional well-being. It's time to address it.
Last but not least, Saturn will change signs in 2020, giving you tests in new ways. From March 21 - July 1, Saturn will dip into your 8th House of Shared Resources, giving you a hint of what is to come when he moves into this part of your chart full force starting December 17. It's all about learning to pick yourself up by your bootstraps and not rely on anyone else's resources with this transit. Fortunately, you're more than equipped to do so.
Reveal what's happening for YOU in 2020 with personalized Astrology predictions »Reveal what's happening for YOU in 2020 with personalized Astrology predictions »