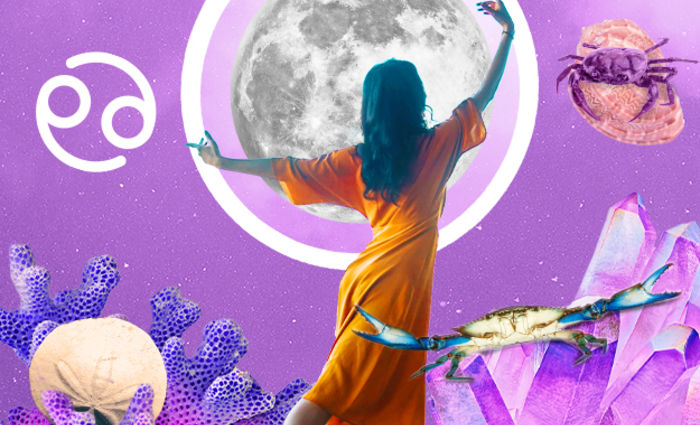 Cancer 2020 Horoscope for Love
The big bad wolf
2020 is likely to be a life-altering year for you when it comes to love and relationships. Although this might sound like a dramatic statement, you already know it's true. You started getting major glimpses of the shifts in 2019 when the eclipses first began crossing your sign and your partnership sign, Capricorn. This year, it will be even more intense, as the eclipses finish through your relationship sector while Saturn wraps up his stay in the same area of your chart.
But first, the most important celestial event of 2020: the monumental Saturn-Pluto conjunction that will occur in your partnership sector on January 12. This major conjunction is all about letting go of the structures in a certain area of your life that you know are no longer holding you up. Cancer, the truth is, your relationship has either been built on straw or laid carefully with brick. If it was hastily built, then this is the year when the big bad wolf (a.k.a. Pluto!) will come around and blow your house down. If, however, you and your partner have built a solid foundation together, the big bad wolf will huff and puff and realize that the two of you can't be moved.
It is going to be an extreme, Cancer -- either one or the other, but not both. Only you know where you and your partner fall on this scale of relationship strength. Even if you have a lot of love between you, it's possible that the tests have just become too much to bear and one or both of you need out in order to breathe again. A Lunar Eclipse in your sign on January 10 will illuminate whether or not this is the case.
Stay ahead of ALL the love energies headed your way in 2020 with personalized love predictions »Stay ahead of ALL the love energies headed your way in 2020 with personalized love predictions »
Hit the reset button
One last series of eclipses across your sign on June 21 and then your partnership sign on July 5 will signal the new beginning for you and your mate (if you survived the big bad wolf), OR it might indicate a fresh start with someone new.
Stay ahead of ALL the love energies headed your way in 2020 with personalized love predictions »Stay ahead of ALL the love energies headed your way in 2020 with personalized love predictions »