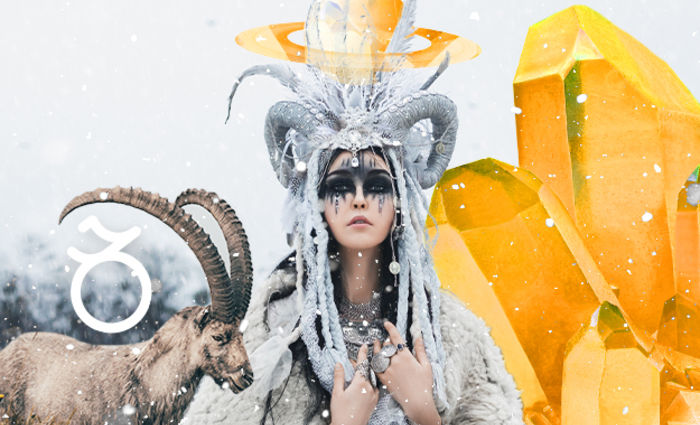 Capricorn 2020 Horoscope
From ashes to empowerment
2020 will be nothing short of a complete page-turner in the story of your life, Capricorn. Wow! There is seriously so much happening in your sign that there is no way you can get through the year flying under the radar or simply coasting.
It all begins with the Saturn-Pluto conjunction in your sign on January 12 that might prompt you to light a match to certain structures of your life and reality. But why destroy what you believed has fortified you for so long? Well, the truth is that you'll come to grips with the fact that it hasn't exactly been as sustaining as you once believed. In fact, you, more than any other sign, will recognize that the only way you'll ever live the life you want to live is if you completely annihilate whatever version of a life you used to have. This all sounds dramatic -- and it is -- but it's also very real. Saturn and Pluto together in their rare and powerful alignment symbolize accepting and letting go of whatever is dead in your world that you've resisted burying for so long. Once you finally have the symbolic funeral, Capricorn, you will see for yourself just how remarkable letting go is for your soul and personal development.
This might have to do with a relationship, since a stressed Lunar Eclipse in your partnership sector occurs on January 10. A business or personal connection you have with someone has been dead for a long time (or has been making you feel dead). It's time to cut your losses and there's nothing like the start of a brand-new year to give you the push you need to make those dramatic cuts from your life.
Reveal what's happening for YOU in 2020 with personalized Astrology predictions »Reveal what's happening for YOU in 2020 with personalized Astrology predictions »
Sweet rewards
Out of any loss or devastation you feel early in 2020, however, WILL come triumph. You may not see it in January, but you can be certain that the cosmic forces are aligning you to a personal victory you never would have had if you chose to cling to what needed to die in your life. The success is all due to Jupiter, the planet of expansion, moving through your sign until December 19, 2020. Jupiter wants to help you grow and, on April 4, June 30, and November 12, he will do so in the most incredible way possible. Jupiter will align perfectly to Pluto on these days, granting you empowerment to the nth degree. You might start 2020 with a fall, Capricorn, but make no mistake: this is your year to rise.
Reveal what's happening for YOU in 2020 with personalized Astrology predictions »Reveal what's happening for YOU in 2020 with personalized Astrology predictions »
Make it work
Adding to the mix will be Mars Retrograde from September 9 - November 13 right in your home and family sector. You might not want to schedule major renovations during this time since there could be delays or problems with contractors. On the upside, however, it is possible that you and a relative might work through a long-standing conflict because both of you now realize that it wasn't worth fighting over after all.
Your ruling planet, Saturn, will also dip into your 2nd House of Earned Income from March 21-July 1, making you consider the smartest ways to make money and hold on to it. Saturn takes up this lesson full time after December 17, when he settles into your 2nd house until March 2023. If you do this transit right, you will learn how to make your money work for you. And you, dear Capricorn, always do Saturn transits right.
Reveal what's happening for YOU in 2020 with personalized Astrology predictions »Reveal what's happening for YOU in 2020 with personalized Astrology predictions »