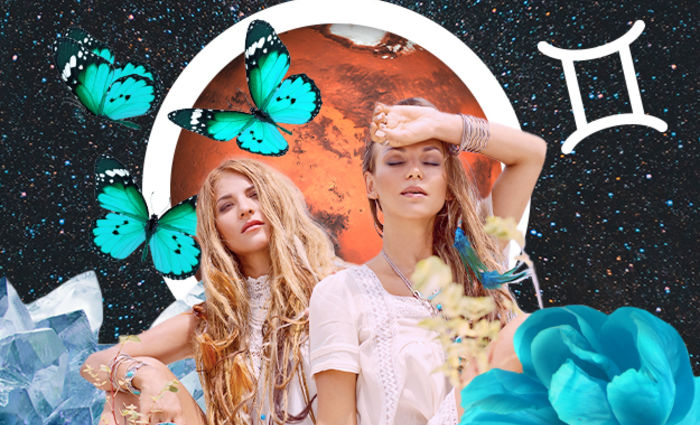 Gemini 2020 Horoscope
Through the looking glass
2020 calls on you to take the time that's necessary to do some honest internal reflection and consider how much you have been defining your self -- and self-worth -- through the eyes of others.
Reveal what's happening for YOU in 2020 with personalized Astrology predictions »Reveal what's happening for YOU in 2020 with personalized Astrology predictions »
There will be a significant -- and uncomfortable -- awakening for you that begins in May. From May 13 until June 25, Venus will retrograde in your sign, making it impossible for you to not feel like something in your relationship life needs attention. You may also feel that it's time for a complete personal makeover, both physically and mentally. Something isn't quite right about the way you think you deserve to be loved and, if that's the case, it needs to be addressed during this time.
Inevitably eclipsed
Making relationships an even more significant theme is the fact that, in 2020, the eclipses finish up in Cancer and Capricorn and begin in Gemini and Sagittarius. For you, this means relationship lessons and turning points are inevitable this year. On June 5, a Lunar Eclipse in your partnership sector occurs during Venus Retrograde, which is happening in your sign. Ouch. This might suggest a rather karmic ending to a relationship. This can be business or personal, but it will tug at your self-worth either way. You might realize that it's no longer possible, or even worth your efforts, to try and fix what is irreparably broken. This relationship doesn't have to end, but whether it survives or not, one thing is certain: you'll recognize and change just how much you allowed this person to define you.
Additional eclipses across your relationship axis happen on November 30 and December 14, leading to the potential for yet another turning point -- and possibly a new beginning with someone -- based on the successful integration of the lessons you'll be faced with earlier in the year.
Reveal what's happening for YOU in 2020 with personalized Astrology predictions »Reveal what's happening for YOU in 2020 with personalized Astrology predictions »
Increasing values
In other news, you are likely to experience a major boost in finances that come your way through sources besides your direct income. Jupiter will flow through your 8th house for most of 2020 -- the part of your chart associated with investments, loans, passive income, and other people's money. Until December 19, you could benefit in one or all of these areas. Just one caveat: on January 12, Saturn and Pluto meet up in this area of your chart, making the January 10 eclipse in your 8th house rather tense. You might have some financial adjustments to make at this time, but when Jupiter and Pluto make their perfect conjunctions on April 4, June 30, and again on November 12, you might find yourself in quite a powerful position financially. Jupiter meeting up with Pluto in your 8th house can mean big money. Wow!
You might also begin noticing that the universe is testing your integrity. Saturn will dip into your 9th House of Beliefs and Morals from March 21 - July 1 and will enter this part of your chart full time on December 17 (until March 2023). Saturn will not tolerate grey areas when it comes to moral behavior. If you find yourself in a situation where you're tempted to fall out of your integrity, don't! The penalty will be quite high if you do.
Reveal what's happening for YOU in 2020 with personalized Astrology predictions »Reveal what's happening for YOU in 2020 with personalized Astrology predictions »