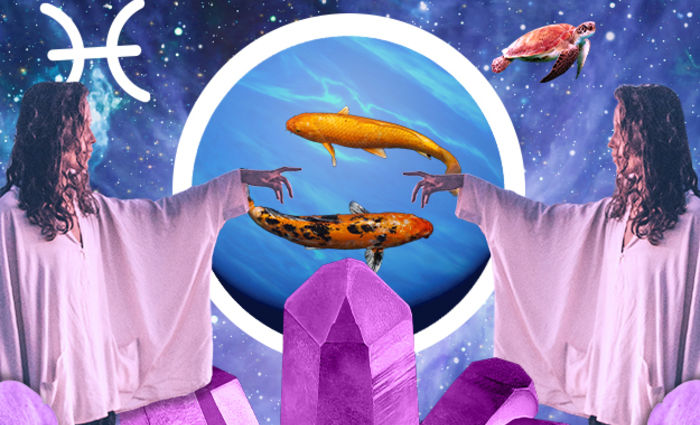 Pisces 2020 Horoscope
Deconstruct to reconstruct
A fascinating theme begins to emerge for you at the onset of 2020 and it has everything to do with the renovations your life needs. They are, indeed, rather sweeping and encompass areas ranging from your domestic world right down to your social and romantic life. Pisces, you will walk into 2020 recognizing at a core level just how vital it is for you to break down every relationship structure in your life so that you can discover the true significance behind the connections you have with others.
It all begins in January with a dramatic eclipse in your true love sector on January 10, followed up with the infamous Saturn-Pluto conjunction in Capricorn on the 12th. In your case, Pisces, this is all about shifts in your romantic and social life. If you've been caught up in a love affair with someone who is more of a child than a partner, you'll have grown quite tired of the immaturity by this time. If your lover can't grow up, it's clear that you have nowhere to grow together. You are far too giving of a soul to settle for crumbs, Pisces, especially in the love department. If you find yourself feeling this way, then you might start the New Year completely single ... by choice.
You might also seriously question the company you keep in terms of friends and could decide to make 2020 the year you scrutinize who you give your valuable time to. Fortunately, with Jupiter also in your 11th House of Friends and Groups until December 19, you'll be in a fantastic position to make new connections with people who lift you up rather than bring you down. In fact, empowering friendships are possible near April 4, June 30, and November 12 when Jupiter meets up with heavy-hitting Pluto in a rare and beautiful conjunction. This is the "power couple" energy focused on your social networks. You are likely to mingle with at least one person this year who has quite a bit of clout and has every intention of helping you make one of your dreams come true. Yes!
Reveal what's happening for YOU in 2020 with personalized Astrology predictions »Reveal what's happening for YOU in 2020 with personalized Astrology predictions »
A change of heart
Ironically, speaking of dreams, Saturn will dip into your quiet 12th House of Release from March 21 - July 1, making you seriously question why you have put so much effort into a specific goal that suddenly means nothing to you. It's the kind of thing where you might have worked for years to achieve something like your own business, a home, or even a specific relationship. Suddenly, Saturn enters your 12th house and you lose your ambition about the very thing you spent so much time and effort trying to make happen. It's disconcerting at first, but if you lean into it, Pisces, it can become the most freeing experience for you.
Reveal what's happening for YOU in 2020 with personalized Astrology predictions »Reveal what's happening for YOU in 2020 with personalized Astrology predictions »
On the move
You might reconnect with relatives you lost touch with between May 13-June 25 as Venus travels retrograde in your 4th House of Home and Family. Eclipses also begin to touch this part of your chart as well as your career sector, signaling major transitions in these areas. Pay attention to what needs to end professionally near the June 5 eclipse so that you can have a massive new beginning in career at the November 14 Solar Eclipse at the top of your chart. A move is also possible near the November 30 eclipse. Perhaps you'll move back home or in with relatives you used to live with around June 5 (while Venus is retrograde), only to move again in late November. Go with the flow, Pisces ... thank heavens you know how to do this like a boss!
Reveal what's happening for YOU in 2020 with personalized Astrology predictions »Reveal what's happening for YOU in 2020 with personalized Astrology predictions »