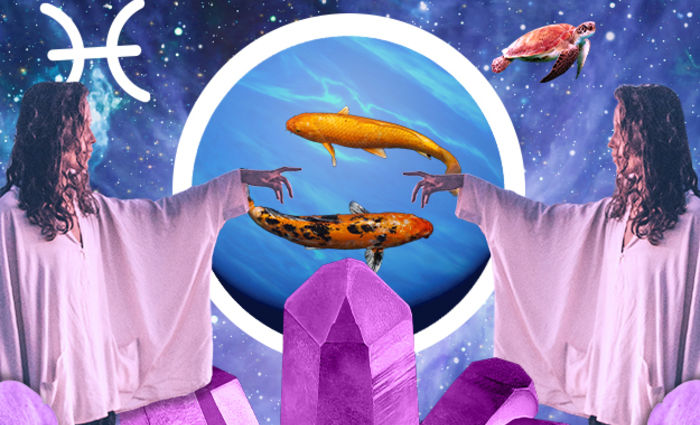 Pisces 2020 Horoscope for Love
How strong is your foundation?
Pisces, you already know that you tend to be driven by your feelings and by the fact that you absorb the feelings of other people around you so easily. You've definitely earned your title of being the "psychic sponge" of the zodiac! In 2020, however, this tendency will be amped up and will trigger your love life, thanks to the eclipses finishing up their tour of your romance sector.
The year begins with a massive reality check connected to your love life due to a Lunar Eclipse on January 10 being exactly opposite the dark Saturn-Pluto conjunction which is exact on January 12. This is all about you realizing that the big bad wolf is huffing and puffing and blowing down the house of hearts that you've tried to build with someone you adore. Although the love might be there (and the attachment definitely is!), that just isn't enough. Love that is not built on a solid foundation of mutual respect, trust, and willingness to do the work of relationship is just not going to survive. Yes, it's that dramatic, but, Pisces, the universe is trying to get your attention for a reason. Letting go of a love affair that you know doesn't truly feed your emotional needs is critical. It's the only way to lay a new foundation -- one that's filled with possibilities to finally give and receive the emotional connection you truly crave from your sweetheart.
The Solar Eclipse on June 21 can absolutely bring a fresh start to an existing love affair or a brand-new romance to you.
Stay ahead of ALL the love energies headed your way in 2020 with personalized love predictions »Stay ahead of ALL the love energies headed your way in 2020 with personalized love predictions »
Family frustrations
Interestingly enough, Venus will also be retrograde this year -- from May 13 - June 25, she'll be napping in your home and family sector. You might second guess your decision to live with your sweetheart, or it's possible that you and your partner are not agreeing about family finances during this time. Lastly, if a relative is meddling in your love life, he or she might cause some real damage. Don't let it happen!
Stay ahead of ALL the love energies headed your way in 2020 with personalized love predictions »Stay ahead of ALL the love energies headed your way in 2020 with personalized love predictions »