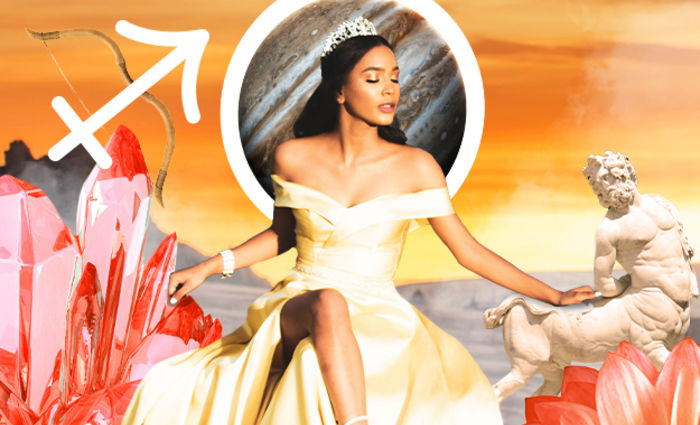 Sagittarius 2020 Horoscope
Spinning the Wheel of Fortune
2020 might begin on a harsh note when it comes to your finances, Sag. On January 12, a conjunction between Saturn and Pluto in your earned income sector -- against the backdrop of a Lunar Eclipse on January 10 in your 8th House of Shared Resources -- will leave you with a significant reality check concerning your money situation.
The good news is that this setup could mean you are ready to pay off a major chunk of debt and become as frugal as possible so that you restore financial health ... or at least improve it dramatically.
When you consider all the planetary patterns, however, there is no reason to panic. You have Jupiter touring your earned income sector for most of 2020 (until December 19), and on April 4, June 30, and November 12, there will be a rare and perfect conjunction between Jupiter and Pluto. This is the opposite of what you'll feel at the start of 2020. Where you once had fear and insecurity and potential loss in terms of how you make money and what you do with it, Jupiter and Pluto together will teach you that you are so powerful and have all the resources inside of you to write your own paycheck. This IS the year you will become a financial boss and it does appear to happen because of how you handle a certain adversity or test earlier in 2020.
Reveal what's happening for YOU in 2020 with personalized Astrology predictions »Reveal what's happening for YOU in 2020 with personalized Astrology predictions »
A breaking point
In other news, you'll begin to feel a significant energy of change in the air when it comes to your identity and your personal connections. The eclipses will move out of your financial axis in 2020 and begin to focus on your sign and your opposite sign, Gemini.
A Lunar Eclipse in Sagittarius on June 5 will make you keenly aware of what's missing in your relationship with someone close. This can be a business or personal connection, but either way, emotions will run high as you are likely to come to terms with the problems you and this person have that just don't seem fixable. Venus will be retrograde at the time of this eclipse, right in your partnership sector, calling attention to these themes. Although she will be retrograde from May 13 - June 25, it is the eclipse on June 5 that might very well trigger a breaking point for you and someone close. You're not feeling valued in the relationship and it's possible that you'll discover you never were a priority to this person after all, only an option. That won't cut it for you now and you'll be ready to walk away if that's the case. More eclipses across your relationship axis on November 30 and December 14 continue the theme of transition, however, at these times, you're likely to be in a much more positive position.
Reveal what's happening for YOU in 2020 with personalized Astrology predictions »Reveal what's happening for YOU in 2020 with personalized Astrology predictions »
Stalling out
Mars will also retrograde in 2020 from September 9 - November 13 in your 5th House of Children, Romance, and Pleasure. You might lose interest in a creative project during this time or have to contend with one of your children losing their ambition and motivation to pursue their goals. Another possibility is that you will have an opportunity to rekindle a sexual relationship with someone you used to date. That could be a good thing, although you will need to keep your expectations in check about what it means beyond anything physical. If it's meant to evolve, it will.
Reveal what's happening for YOU in 2020 with personalized Astrology predictions »Reveal what's happening for YOU in 2020 with personalized Astrology predictions »