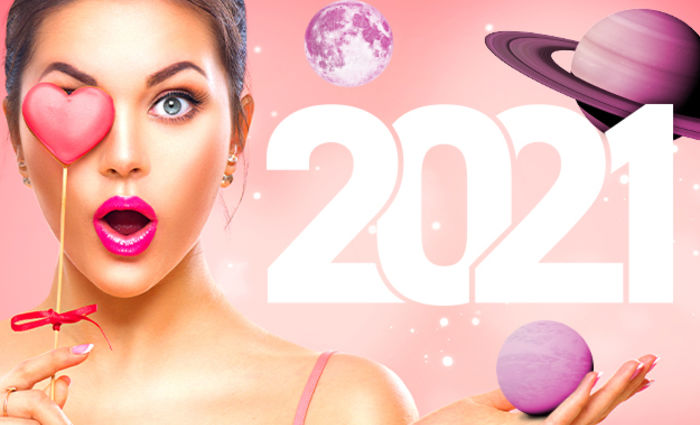 Your 2021 Yearly Love Horoscope
Your free love horoscope reveals what the universe has planned for you in 2021!
"Should I stay or should I go?" might be the theme for love and relationships in 2021 as commitment-oriented Saturn takes up residence in independent Aquarius while revolutionary Uranus continues its stay in loyal Taurus. With these two cosmic giants squaring off with each other three times this year -- February 17, June 14, and December 24 -- we can expect lots of surprises and interesting developments in matters of the heart.
Saturn and Uranus will push us to change our patterns in relationship and our approach to love. For those of us who have approached love in a more carefree manner or are struggling with commitment issues, we could find ourselves ready to work through our blocks to intimacy. At the same time, those of us who have had problems with co-dependency or have found it hard to be alone will be learning what it means to be in a relationship without totally losing ourselves.
As Saturn and Uranus will be on course to shake things up, there could be surprise breakups, divorces, marriages, or additions to the family during 2021. Of course, not everything will be a surprise, but if there is a breakup on the horizon, Saturn and Uranus will only be giving us the motivation needed to finally drop the axe. For those of us that might be afraid of or resistant to the changes coming down the pipeline, opting to hang on to a failing relationship or stay stuck in our ways, we'll definitely have our work cut out for us.
Navigating through the energy of 2021 will be tricky -- get daily advice designed just for YOU »Navigating through the energy of 2021 will be tricky -- get daily advice designed just for YOU »
Aside from the Saturn-Uranus squares and Jupiter in Aquarius all pushing for big changes, the eclipses happening in Gemini and Sagittarius on May 26, June 10, and December 4, plus the Lunar Eclipse in Taurus on November 19, will be pushing us toward something different in terms of how we relate to each other.
For starters, the Gemini-Sagittarius eclipses will be working to help us develop better communication and understanding between ourselves and our partners as self-righteousness, lying, an inability to listen, and playing blame-games are surefire routes to loneliness. With the help of the eclipse in Taurus, we're pushed to confront anything we've been sweeping under the rug in our love lives, head-on. For many of us, this eclipse could trigger the heart healing we've been needing.
Abundant Jupiter's brief stay in romantic and compassionate Pisces from May 13-July 28 will also provide the nourishment we need. Before he officially moves into Pisces on December 28, we will get a taste of the heart-opening magic that Jupiter in Pisces has to offer. However, as both Jupiter and Pisces can be quite idealistic, many of us will have to be careful of seeing only what we want to see in a partner or a sticky relationship situation. With love planet Venus going retrograde in practical Capricorn on December 19, we'll get a final litmus test on the value and integrity of our relationships and how much we're willing to invest.
Navigating through the energy of 2021 will be tricky -- get daily advice designed just for YOU »Navigating through the energy of 2021 will be tricky -- get daily advice designed just for YOU »