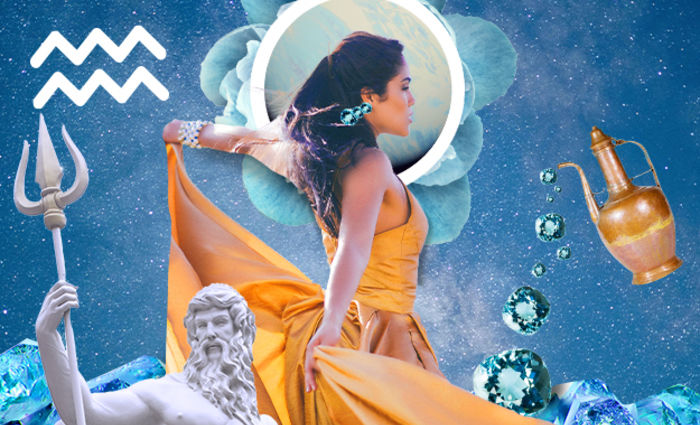 Aquarius Love Horoscope 2021
Your love horoscope reveals what's in store for Aquarius' heart this year
You're the cosmic darling of the year as lucky Jupiter and ambitious Saturn set up shop in your sign for most of 2021. With Jupiter's help in boosting your confidence and popularity and Saturn helping you to become the boss you were born to be, expect to have lots of admirers, many of whom will want to sweep you off your feet.
If single when 2021 begins, you won't be for long, as a super-charged Solar Eclipse activates your 5th House of True Love on June 10. You'll not only be turning heads everywhere you go, but you'll also find your heart more open than it's been in a while, which will help you attract someone new. On a similar note, with the eclipses on May 26 and December 4 happening in your 11th House of Friendship and Community, you might find that you're ready to take things further with a friend if there's been a romantic spark between you.
All that said, Jupiter and Saturn will be helping you this year to keep your standards high and your attention on those that truly compliment you. When bountiful Jupiter briefly moves into Pisces and your 2nd House of Values from May 13-July 28, you're pushed even further to ask for more for yourself and out of life, especially when it comes to love.
Navigating through the energy of 2021 will be tricky -- get daily advice designed just for YOU »Navigating through the energy of 2021 will be tricky -- get daily advice designed just for YOU »
Meanwhile, for those of you involved in a more committed connection, expect both unpredictable Uranus and a game-changing Lunar Eclipse in Taurus on November 19 to shake up your 4th House of Home and Family. Some of you could be surprised by a pregnancy or be ready to move out of a shared space and into a place of your own if your relationship has been on the outs. Overall, as your focus is pulled to this area of your life, expect to work on addressing things from your past that have been blocking you from having the love and fulfillment you seek today.
Navigating through the energy of 2021 will be tricky -- get daily advice designed just for YOU »Navigating through the energy of 2021 will be tricky -- get daily advice designed just for YOU »