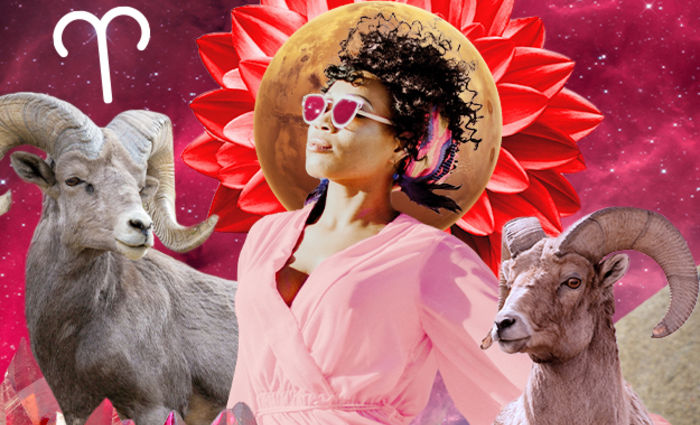 Aries Love Horoscope 2021
Your love horoscope reveals what's in store for Aries' heart this year
You might be more interested in the big plans you have for your future and less interested in romance as committed Saturn and bountiful Jupiter camp out in Aquarius and your 11th House of Friendship and Future Goals. However, if falling in love is on your list of hopes and wishes for 2021, it can happen if you're ready to shift your approach. Saturn in cool-headed Aquarius will be helping you do this is by pushing you to get crystal clear on your ideal partner and tempering your need to jump into a new romance or budding flirtation.
The game-changing eclipses activating your 3rd House of Communication and 9th House of Beliefs on May 26, June 10, and December 4 will be helping you, too, in terms of shifting your mindset around relationships. They will push you to let go of outdated beliefs about love, especially if you've been disappointed in the past or afraid of losing your independence.
Navigating through the energy of 2021 will be tricky -- get daily advice designed just for YOU »Navigating through the energy of 2021 will be tricky -- get daily advice designed just for YOU »
If you have been having trouble with getting over an ex or if you've found your hope or optimism about your love life to be in short supply, look to lucky Jupiter's quick tour of inspirational and romantic Pisces -- your 12th House of Dreams and Retreat -- from May 13-July 28 to help you with healing your heart and renewing your faith. The right person does exist, Aries, you just need to believe they do.
The rest of the year, Jupiter will be in Aquarius, helping to widen your social circle which could also widen your dating pool. Since Aquarius covers the area in your life that deals with friendship, it's also possible that you and a friend could become something more this year. Though, with Uranus in Taurus changing your core values and planets in Aquarius giving you a taste for something different, you might also find yourself attracted to people that aren't your usual type. Remain open to the possibilities while also staying true to what you really want.
Navigating through the energy of 2021 will be tricky -- get daily advice designed just for YOU »Navigating through the energy of 2021 will be tricky -- get daily advice designed just for YOU »