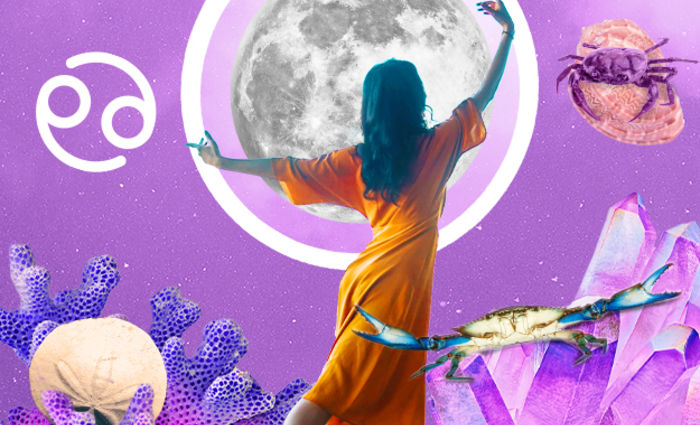 Cancer Love Horoscope 2021
Your love horoscope reveals what's in store for Cancer's heart this year
In 2021 you could find yourself either working to deepen the bond that you share with your partner or working through any fears that you have about starting over again in love. How you choose to move forward will be largely influenced by serious Saturn and growth-oriented Jupiter traveling through Aquarius and your 8th House of Intimacy and Sharing. With the help of these two cosmic giants, expect to work on issues that have been festering between you and your partner -- they'll be unavoidable now, especially if they involve money or something one of you has been holding on to from the past.
If a relationship has recently ended and it's left you a bit shell-shocked, or if you've been running away from love because you've been afraid of abandonment or being hurt, Jupiter and Saturn will motivate you to seek counseling or therapy so you can heal, move on, and open your heart again. The same is true when it comes to addressing codependent patterns in your love life.
With freedom-loving Uranus traveling through Taurus and your 11th House of Hopes and Wishes, you might find yourself craving more freedom as well, which can help you avoid jumping into or sticking with a relationship just for the sake of being with someone. In 2021, you're being pushed to embrace your independence as well as your quirks and flaws, which can enable you to build an intimate connection on true love, trust, and mutual respect.
Navigating through the energy of 2021 will be tricky -- get daily advice designed just for YOU »Navigating through the energy of 2021 will be tricky -- get daily advice designed just for YOU »
With three game-changing eclipses activating your 6th House of Routine and 12th House of Subconscious over the summer and fall, you will feel compelled to release the need for perfectionism or control (yes, always being the giver or the helper is a form of control) in your approach to relationships. At the same time, you'll be encouraged to rely more on faith and your keen intuition to help you find the love you deserve.
Navigating through the energy of 2021 will be tricky -- get daily advice designed just for YOU »Navigating through the energy of 2021 will be tricky -- get daily advice designed just for YOU »