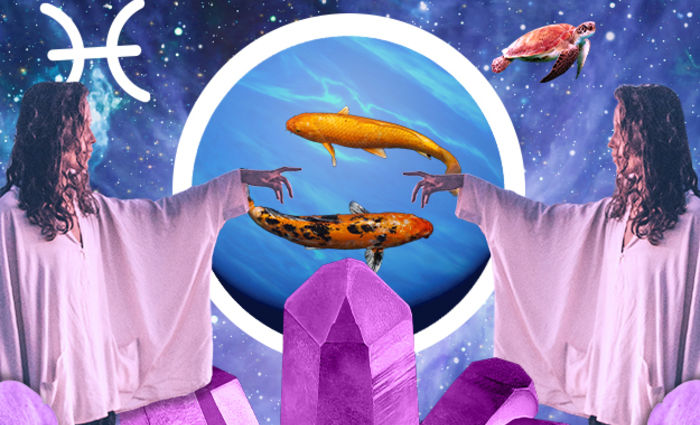 Pisces Horoscope 2021
Pisces' 2021 horoscope reveals what the year holds
You're an intuitive and soulful person by nature, Pisces, but 2021 will ask that you dive a bit deeper when it comes to sorting out what it is that defines you at your core. A big reason for this is because you'll have structured Saturn moving through independent Aquarius and your 12th House of Endings while unconventional Uranus is in value-driven Taurus and your 3rd House of Mental Activity. As these two cosmic heavyweights square off with each other three times this year -- on February 17, June 14, and December 24 -- expect to work on overcoming any regret that you have about the past or any fear you might have about the future. In many ways, this planetary combo will be pushing you to focus on the here and now, which includes accepting yourself or life as is rather than focusing too hard on (or getting discouraged by) an unattainable dream.
Blessed by abundance
Still, this doesn't mean that all you should expect is gloom and disappointment for the year. With lucky and bountiful Jupiter also touring your healing 12th house for most of 2021, this is a time when you'll find that anything meant for you, like a gift or a blessing, will find you at just the exact moment when you need it most. You can expect a lot of spiritual growth and protection, too.
Your luck only gets better once Jupiter moves into your sign for a brief stay from May 13-July 28. You'll get a preview of what's to come when Jupiter officially moves into Pisces for its yearlong transit beginning December 28. With this planet of abundance and good fortune on your side, expect to have money, opportunities, and attention practically thrown at you.
Navigating through the energy of 2021 will be tricky -- get daily advice designed just for YOU »Navigating through the energy of 2021 will be tricky -- get daily advice designed just for YOU »
Leveling up
Meanwhile, your professional and domestic lives will also be activated as three impactful eclipses push you to new heights. Beginning with a May 26 Lunar Eclipse and followed by a Solar Eclipse on December 4 -- both in enterprising Sagittarius and your 10th House of Career -- you could receive widespread recognition for your work or decide to up and leave a position in lieu of a brand-new career path. On June 10, the Solar Eclipse in Gemini and your 4th House of Home and Family could help you with relocating or starting a family. Though, overall, look to these eclipses to help you find your anchor within and establish a deeply rooted sense of self, so you can achieve more personally fulfilling goals driven by self-validation.
But your transformation won't yet be complete without the Lunar Eclipse in Taurus on November 19 activating your communicative 3rd house. With the help of this eclipse, you could find your voice and share it with a widespread audience through your writing or a big presentation. The eclipse could also assist you in breaking through self-limiting thinking, as well as show you where you may need to learn new skills, become more innovative, or improve your ability to follow through on your ideas.
With love planet Venus going retrograde in your 11th House of Friendship and Allies beginning December 19, you can expect to re-evaluate your friendships and associations. Know that, as you level up, not everyone will be suited to come along for the ride.
Navigating through the energy of 2021 will be tricky -- get daily advice designed just for YOU »Navigating through the energy of 2021 will be tricky -- get daily advice designed just for YOU »