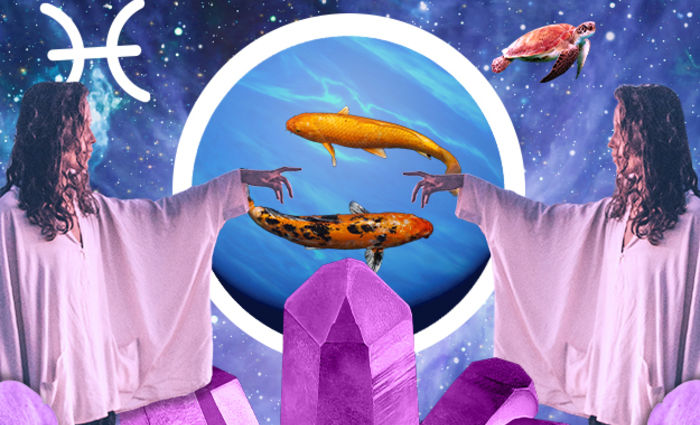 Pisces Love Horoscope 2021
Your love horoscope reveals what's in store for Pisces' heart this year
This year, the focus is more on you than it is on being partnered up. Not that you can't or won't have opportunity to fall in love or enjoy your current relationship, but with hardworking Saturn and hopeful Jupiter in Aquarius and your 12th House of Spirit and Retreat, you're being pushed to overcome your fears of being alone. As a result, you'll find that your relationship or your potential for one will improve, as this will help you with cultivating true fulfillment and happiness that won't be dependent on whether or not you have a partner. This means that you'll be less inclined to keep someone around for the sake of a warm body or out of boredom or expecting your partner to be solely responsible for your happiness.
With lucky and expansive Jupiter briefly moving into your sign from May 13-July 28, expect to your confidence to explode. The universe is pushing you to put more time, energy, and investment into yourself, and you'll find that you'll not only have the mojo to go out into the world and achieve just about anything, but you'll also find yourself less willing to settle in love or trade your newfound independence for all-consuming romantic entanglements.
Navigating through the energy of 2021 will be tricky -- get daily advice designed just for YOU »Navigating through the energy of 2021 will be tricky -- get daily advice designed just for YOU »
If you are part of a happy couple, you and your love will be eager to build a home together thanks to the Solar Eclipse in your 4th House of Domestic Matters on June 10. You could move in together, purchase a home, or even become parents. Though, with your 10th House of Career being activated by eclipses on May 26 and December 4, you will need to work on balancing your work and private life so you don't get overwhelmed. Look to the Lunar Eclipse in Taurus which hits your 3rd House of Communication on November 19 to push you to voice your needs and concerns to your partner.
Navigating through the energy of 2021 will be tricky -- get daily advice designed just for YOU »Navigating through the energy of 2021 will be tricky -- get daily advice designed just for YOU »