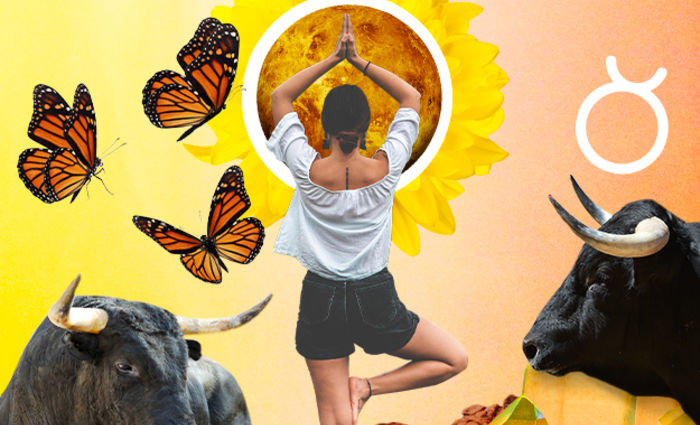 Taurus Horoscope 2021
Taurus' 2021 horoscope reveals what the year holds
Since unpredictable and unconventional Uranus has been camped out in your sign since March 2019, you've been on a personal revolution. In 2021, Saturn in innovative Aquarius and your 10th House of Profession will square off with Uranus three times (on February 17, June 14, and December 24), and you can expect the desire to break free of a stagnant career path or the pressure of external validation to be heightened. As a creature of habit and security, you could feel fearful of making such sweeping changes, but this planetary pile-up is pushing you to step far outside your comfort zone to achieve a life that feels authentically your own. This could mean going in a brand-new direction with your goals and ambitions, perhaps breaking into entrepreneurship or making corporate responsibility and community impact higher priorities than a cushy paycheck.
You get out what you put in
With high-minded Jupiter also spending most of the year in your professional 10th house, you'll find that the intentions you set and the actions you take won't have much meaning or impact unless you put some true heart and soul into them. Pair these Jupiter transits with the eclipses falling in your 2nd Houses of Money and Possessions and your 8th House of Debts and Deep Desires, and you're going to find that what you want and what you're willing to work for will change.
With the Lunar Eclipse in Sagittarius kicking things off on May 26, followed by a Solar Eclipse in Sagittarius on December 4, your vulnerable 8th house will be activated. As a result, expect to be confronted with the ways you may need to change your relationship to materialism and confront your fears around lack. The June 10 Solar Eclipse in Gemini and your financial 2nd house will help you in redefining your values and finding more fulfilling streams of income.
In between these eclipses happening in Gemini and Sagittarius, there will also be the first of seven eclipses (happening from 2021-2023) on the Taurus-Scorpio axis: a Lunar Eclipse in Taurus on November 19. This eclipse will be activating your 1st House of Self-image, which will push you to shore up your confidence in going after what you want, establishing your independence, or leaving behind an old version of yourself. Since this eclipse will coincide with changes happening around some of your most significant relationships, you may also be saying goodbye to someone that's no longer a part of your journey forward.
Navigating through the energy of 2021 will be tricky -- get daily advice designed just for YOU »Navigating through the energy of 2021 will be tricky -- get daily advice designed just for YOU »
An important journey
Come December 19, Venus -- your planetary ruler and the planet of beauty, pleasure, and self-worth -- goes retrograde in pragmatic Capricorn and your 9th House of Philosophy and Expansion. With Venus traveling backward here, you're called to evaluate whether your current values align with your vision for the future. You could also find yourself returning to the cultural spaces, places, or studies you once loved as a reminder of who you really are. When Jupiter officially begins its yearlong stay in Pisces on December 28, it'll be time to broaden your horizons and your social circle.
Navigating through the energy of 2021 will be tricky -- get daily advice designed just for YOU »Navigating through the energy of 2021 will be tricky -- get daily advice designed just for YOU »