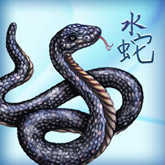 2013 Chinese Horoscopes
The Year of the Water Snake brings tides of transformation

February 10, 2013 marks the Chinese New Year, kicking off the Year of the Black Water Snake in Chinese Astrology. Snake years tend to bring unexpected transformations to our lives. Yet while there may not be many outward manifestations of change, there will be plenty of activity beneath the surface. Behind-the-scenes talks, secret negotiations, and clandestine activity will characterize this Chinese year ... things are not what they seem in a Snake year.
And you can get a heads up on the changes and overall energy in your life this year with a personalized 9-Star Ki Forecast.
The Water element is emotive, compassionate and perceptive. By tuning into your intuition, you can detect changes that can't be perceived with the naked eye. If you sense your company is in trouble, update your resume and collect your work samples. Does your romantic partner seem distant and distracted? Don't wait for your partner to announce their dissatisfaction. Schedule a romantic vacation and plan more date nights.
Snake years reward those who do plenty of research before making a move. Whether you're hiring a contractor or dating someone new, be sure to do a background check. Do you need to buy an expensive appliance? Read consumer reports and customer surveys before making your purchase. Are you going to school? Find out which institutions offer the best programs for your needs. By arming yourself with knowledge, you'll make the most of this transformative year.
Love in the Year of the Water Snake
The Year of the Snake year is made for love. Clandestine affairs will abound, thanks to the secretive nature of these creatures. You can expect to hear news of at least one sex scandal this year. Not all romantic relationships will be sordid, however. Snake years prize good looks, so you may be inspired to update your appearance with a new hairstyle, fitness routine, or wardrobe upgrade. Attracting love will be easy once you take extra care with your appearance.
If you're already in a relationship, you'll try to gain an additional measure of independence from your partner. Developing unique interests and meeting your own needs will make for a healthier union. If your beloved asks for a little more private time, be sure to grant this request. By encouraging each other to develop as individuals, you'll be more inclined to spend quality time together. The Year of the Snake rewards lovers who have faith in each other.
Money in the Year of the Water Snake
Businesses that are efficient and cost-effective are favored in the Year of the Water Snake. Ventures related to medicine, marketing, accounting, financial planning, scientific research, environmental protection, and antique restoration are strongly favored. Any job involving restoration should also fare well. Fields heavily influenced by trends, though, will probably experience downturns. Restaurants, fashion design, interior decorating, night clubs, publishing, and filmmaking will also probably not fare as well as they did in years past.
If you want to increase your chances of getting a good job during a Black Water Snake year, expand your skill set. Any course involving business communication, conflict resolution, and management can increase your marketability. Improving your image can also help. If you've had difficulty finding a job, learn how to project an air of professionalism. Knowing how to look and dress the part of a successful worker will make all the difference. If you've held a temporary job, the Year of the Snake can help you secure a full-time, salaried position.
Don't forget tp tap into the year ahead! A 9-Star Ki Forecast connects your unique birth data with the Year of the Water Snake to help you move through this transformative year with ease.