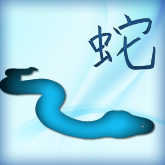 The Snake's Chinese Horoscope for 2013
It's your year

Opportunities abound for Snakes throughout 2013. The Year of the Water Snake invites the Snake to let down its guard and take a few risks. Venturing into unknown territory will be beneficial, so it's a good time to compile a list of dreams. The chances for realizing a childhood fantasy are very strong right now, whether it's becoming a champion athlete, successful artist or wealthy entrepreneur. If you keep your eyes on the prize, you can reach an impressive goal this year.
Curious to see how your specific Chinese zodiac sign will fare this year? Try an Essential Chinese Astrology Profile to find out!
Since this year is ruled by the Water element, the Snake's natural enthusiasm for life will be a bit subdued. Frequent periods of rest will enable you to recharge your batteries and accomplish your goals. Contemplative activities like meditating, praying, and journaling will prove therapeutic for Snakes during this Water Year. If you don't slow down in 2013, burnout will ensue.
As far as health is concerned, Snakes should try to be optimistic this year. A negative outlook can undermine your enjoyment of a fabulous year. If you feel guilty about your good fortune, get involved with a charitable organization. Donating time, money, and energy to a worthy cause can help keep depression at bay.
The Snake should ignore conventional wisdom in 2013, and listen to their intuition instead. By watching and waiting, you will know exactly when to strike a business deal, approach a love interest, or begin a creative project. The Year of the Water Snake will bestow impeccable timing to your overall approach.
The Snake's love horoscope
If you want to become more attractive to love, single Snakes must become more open and outgoing. It's important for your self-contained sign to get out and mingle throughout 2013. Going to parties, professional conferences, and neighborhood gatherings will help put you in the path of romance. When you do meet someone special, you'll have to work hard to let you're your guard; otherwise, intimacy can't occur. The Year of the Water Snake rewards those who take chances, and your sign is no exception.
The Snake that is in a committed relationship needs to be more forthcoming. Keeping secrets during the Year of the Water Snake will backfire. It's time to come clean, whether it's about a bad habit or a hidden resentment. Becoming less possessive is a worthy goal for you to pursue in 2013. By cultivating trust in this Snake year, you can build a stronger, happier relationship that can last a lifetime.
The Snake's money horoscope
The Snake's tenacity will be financially rewarded in this Year of the Water Snake. This is a wonderful time to apply for an elusive job or land a desired client. The Water Snake year favors those who do their research, so it's a good idea for to gather as much background information as possible when doing business. A boss who seems skeptical of your abilities will be forced to eat humble pie when you become directly responsible for increasing the company's profits.
Snake years involve constant change, so you may be anxious to find a new job. Employed Snakes would be wise to stay where they are, though, because any new position will have hidden strings attached. Snakes who are seeking work could find a good position involving chemistry, pharmaceuticals, beverages or fuel. Jobs involving law enforcement and the military are also favored for Snakes in 2013.
Don't forget to see what the year ahead holds for your sign with an Essential Chinese Astrology Profile!