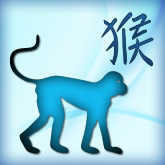 The Monkey's Chinese Horoscope for 2014
Play well with others

The mischievous Monkey could encounter difficulty during the Year of the Wood Horse. Horse Years prize honesty, while Monkeys are too subversive to be straightforward. Getting in trouble with the powers-that-be could be a trend if this sign isn't careful. Instead of thumbing their noses at authority in 2014, the Monkey would be wise to buckle down and do what is asked. Horse Years pose marvelous opportunities for the Monkey to become more disciplined and diligent, provided this creature is willing to learn.
Prepare for all the changes and energy you'll face in your own life this year with a personalized 9-Star Ki Forecast.
Because this year is ruled by the Wood Element, the Monkey may feel misunderstood. Instead of being applauded for its wicked sense of humor, this sign could be accused of being hurtful or sarcastic. The Wood Element rewards honor, kindness and consideration. By learning to be more mindful of others, the Monkey can become a more sensitive, caring creature in 2014.
Operating as part of a team can prevent the Monkey from feeling alienated during a Horse Years. Naturally independent, this sign could be accused of egotism in 2014, because the Horse prizes sociability. Therefore, instead of finding ways to showcase their unique talent, the Monkey should get involved with collaborative efforts.
As far as health is concerned, the Monkey should spend as much time outdoors as possible during the Year of the Wood Horse. Sitting under fluorescent lights can take a toll on the Monkey's health. Similarly, staring at the computer can result in eye strain and headaches for this sign during this harried Horse Year.
The Monkey's 2014 love horoscope
Monkeys in committed relationship should keep lighthearted teasing to a minimum throughout 2014. Even if playful banter has been a cornerstone of a serious romance, it should be minimized in the year ahead. Taking more time to inquire after their partner's health and well-being will be critical to keeping love alive. The Horse Year places great emphasis on kindness and courtesy, especially in romantic unions. Less joking and more praising are advised for Monkeys in love.
The Year of the Wood Horse involves many choices, and this will be especially true for the single Monkey. Romantic opportunities will abound for this flirtatious sign. For most of the year, the Monkey will enjoy playing the field, dating a wide variety of people. As the Horse Year draws to a close, this sign may choose to settle down. An ideal partner will be grounded, nurturing and sensual. The Monkey needs to steer clear of hypersensitive types.
The Monkey's 2014 money horoscope
The Monkey will need to work hard for their money in 2014. Competition is always stiff during Wood Horse Years. Therefore, the Monkey won't able to goof off as much as they'd like. Playing around usually makes this sign more productive, but the authorities won't appreciate this dynamic in 2014. Employed Monkeys should keep busy and avoid attention. This isn't a good year to ask for a raise or promotion, as Horse Years don't place much value on self-starters.
Unemployed Monkeys might be forced to take dull jobs in order to make ends meet. Instead of cursing their luck, this sign would be better off making the best of what they have. The Year of the Wood Horse may prompt the Monkey to get serious about work. If this creature rises to the challenge, they'll make ends meet in 2014. Extending compassion to those who are also out of work is strongly advised, as Horse Years benefit kind behavior.