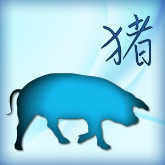 The Pig's Chinese Horoscope for 2014
Clear the clutter

The Year of the Wood Horse will be a favorable one for the gallant Pig. Horse Years are filled with social activity, which is good news for this popular sign. Going to parties, spending time with friends and exploring new gathering spots will pay off handsomely for Pigs in 2014. The larger their social network, the easier it will be for this sign to find love, money and creative opportunities.
Prepare for all the changes and energy you'll face in your own life this year with a personalized 9-Star Ki Forecast.
Because this year is ruled by the Wood Element, the Pig might feel a little undisciplined. Pigs are practical creatures until they are presented with a dizzying array of options. At that point, they become overwhelmed and indecisive. Staying organized is critical to Pigs who want to reap success during a Wood Year. A daily planner will prove invaluable. Clearing clutter can also lend clarity to the Pig this year.
Regarding health, the Pig will require more rest than usual during the Year of the Wood Horse. Pigs don't have the stamina to tackle all the work Horse Years entail. Consequently, it would be wise for the Pig to hire a babysitter, house cleaner or personal assistant. Establishing a regular bedtime routine is also advised for Pigs in 2014.
Finding work that provides creative satisfaction is possible for Pigs this year. This sign should take every opportunity to showcase their wares. Submitting work to galleries, publishers, agents and managers is strongly recommended. Horse Years reward those who are willing to go after their dreams. This is wonderful news for the idealistic Pig.
The Pig's 2014 love horoscope
Regarding love, Pigs who are in committed relationships could find deep contentment in 2014. Spending quality time with their partner will strengthen the bonds of affection and loyalty. Horse Years smile upon those who treat each other with care and respect. These qualities are the hallmarks of the Pig's romantic style. Pigs whose mates do not treat them well could be lured away by more attentive admirers.
Single Pigs will have to pursue love; it won't come to them automatically. Horse Years require people to work hard to realize their goals. Any Pig who truly wants love will have to dress well, exude charm and mingle. Fortunately, this sociable sign will have no problem rising to the challenge. The Pig shouldn't let romantic rivals steal their thunder in an ultra-competitive Horse Year. When it comes to picking a partner, the Pig should choose somebody who is discerning, organized and accomplished. Quick-tempered egotists should be avoided at all costs.
The Pig's 2014 money horoscope
2014 will enable the Pig to earn a living through specialized knowledge. The Wood Horse Year favors anyone who shares information with energy and enthusiasm. Therefore, this is a wonderful time to teach a class or land a job requiring expert ability. Employed Pigs who are happy with their jobs would be wise to apply for a promotion. Horse Years can backfire on those who rest on their laurels.
Pigs who are seeking work should pursue jobs that have deep personal meaning. Accepting a job that feels morally questionable could be disastrous. The Year of the Wood Horse prizes ethics above all things. It's especially important for the moral Pig to be doing work that is a reflection of their values. It may be necessary to jump through hoops to land a satisfying position, but the result will be worthwhile. The Pig can distinguish itself from the competition by emphasizing its cooperative nature.