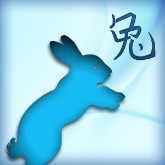 The Rabbit's Chinese Horoscope for 2014
Make mindful choices

The Year of the Wood Horse has many gifts to bestow upon the ambitious Rabbit. This sign could finally get some traction and move toward their goals in 2014. The secret to the Rabbit's success this year is to focus on two or three major goals. Otherwise, they could get distracted and miss some golden opportunities.
Horse Years are rife with temptation. Practicing discernment is the best way for the Rabbit to take advantage of this fabulous energy. Whether it's advancing in their career, finding love, travelling or exercising their creativity, this sign can be successful. It's just a matter of making mindful choices.
Prepare for all the changes and energy you'll face in your own life this year with a personalized 9-Star Ki Forecast.
Because this year is ruled by the Wood Element, the Rabbit will be able to distinguish themselves in their chosen field. This is a great time for this sign to enter contests, apply for grants, obtain scholarships and land impressive jobs. The Rabbit's impeccable taste and good manners will help them outperform rivals. Wood Years bestow rewards on those who are kind, compassionate and flexible. Fortunately, the Rabbit possesses all of these impressive qualities.
As far as health is concerned, Rabbits need to guard against burnout. When they feel overwhelmed, this sign should cut back their schedule. Cancelling appointments can give the Rabbit a chance to collect their thoughts and recover their energy.
Rabbits should see their social networks expand this year. Horse Years are especially gregarious times for the friendly Rabbit. This sign may attend even more parties than usual in 2014. These gatherings promise to be lots of fun.
The Rabbit's 2014 love horoscope
Rabbits could have high expectations about love in 2014. Horse Years can boost this sign's self-esteem. Consequently, the Rabbit will not put up with shabby treatment from their partners. They'll demand care, consideration and respect. If these things are absent from a relationships, the Rabbit will leave for greener pastures. Fortunately, it will not be difficult for the charming Rabbit to find an appreciative mate this year. The Year of the Wood Horse will enhance this sign's kind, sweet nature.
Single Rabbits could find romance through social activities. The Year of the Wood Horse should be jam-packed with parties for this friendly sign. Therefore, the Rabbit should take extra care to look fabulous before attending get-togethers. This sign will probably have a wide selection of admirers from which to choose. They'll fare best with a partner who is quiet, reflective and spiritual. Flamboyant people who crave drama will just scare this sign away.
The Rabbit's 2014 money horoscope
For Rabbits, money can arrive from unexpected sources during Horse Years. Insurance refunds, legal settlements and inheritances may supplement this sign's bank account. Although Rabbits love luxury goods, they should not squander these resources on shopping sprees. Instead, any additional resources should be saved for either independent business ventures or educational endeavors. The Year of the Wood Horse invites the Rabbit to invest in themselves, rather than indulge in extravagances.
Rabbits should also guard against spending too much money on social outings. Lending money to friends is not advised in 2014. Horse Years prompt this sign to overestimate their financial fortunes. When in doubt, it is always better for the Rabbit to save than spend money. Unemployed Rabbits can find work on the strength of their ideas. This sign should use job interviews as an opportunity to express their vision and creativity. These gifts can land Rabbits work during the Year of the Wood Horse.