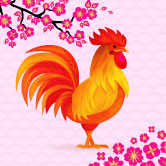 2017 Year of the Rooster Love Horoscopes
Strut your stuff in this confident year

The Year of the Red Fire Rooster will be romantically auspicious for some, but not for others. Either way, every Chinese sign can expect the intense and exciting energy of 2017 to rock their love lives in one way or another. See what this vibrant time has in store for your sign:
Discover what the Year of the Rooster holds for you personally with your custom 1-Year Ki Forecast.
Rat Love Horoscope
The anxious Rat might feel lonely during the flamboyant Year of the Red Fire Rooster. Instead of worrying about not measuring up, it's important for this sign to go out and socialize. Making the round at parties is the best way to attract love this year. Rats who are involved in serious relationships should not neglect their loved ones. Although career prospects will be strong, they must not be a distraction from home and hearth. Those who make quality time for their partners could be rewarded with a baby.
Ox Love Horoscope
This sign's sensual nature will get an enthusiastic response this year. Those who are looking for love should take a class. Learning how to cook, garden, make jewelry, or build furniture will put Oxen in contact with interesting people who excite their imagination. Members of this sign who are already in committed partnerships may be prone to jealousy. The best way to combat envy is to become an ideal partner. If the Ox wines and dines the object of their affection, they'll have nothing to fear in the ardent Year of the Red Rooster.
Tiger Love Horoscope
The passionate Tiger might be romantically restless during the Red Fire Rooster Year. Although lots of admirers will approach this sign, it's unlikely they'll return the interest. Forming platonic relationships could be the best course of action for the Tiger. Friendships can turn to love affairs for this sign, thanks to the loyal energy cultivated by Rooster years. For those Tigers who already have partners, it's important to develop new interests together to keep the spark alive. Resting on their laurels could create disaster for Tigers this year.
Rabbit Love Horoscope
The Year of the Red Fire Rooster can bring out the Rabbit's condescending side. That's why it may be difficult for this sign to find love in 2017. Nobody could measure up to this sign's expectations. For those Rabbits who are already attached, it's important to move out of the past and stay in the moment. Longing for the old days could weigh down an otherwise loving partnership. Making a point of enjoying intimate outings on a regular basis may be helpful during this attentive year.
Dragon Love Horoscope
The willful Dragon could have difficulty meeting someone special this year. Instead of trying to meet a potential partner halfway, this sign may be more intent on imposing their needs onto others. This doesn't bode well for romance during the Year of Red Fire Rooster, when people will demand courtesy and respect. Dragons who already have partners may question their commitment. It would be better for this sign to invest more time into these relationships, not less. Dressing up to go out together can strengthen affection.
Snake Love Horoscope
The coquettish Year of the Fire Rooster will bode well romantically for sensual Snakes. Playful flirtations could develop into serious relationships, but only after an extended period of time. It's best for this sign to postpone serious commitments until next year; 2017 is all about having fun. For Snakes who have partners, it may feel as though they're able to reach a new level of intimacy this year. It's possible this psychic sign will be able to read their lovers' minds and anticipate their needs.
Horse Love Relationship
The intense, unpredictable energy of 2017 can make the Horse even more moody. This won't bode well for romance. It may be better for members of this sign to enjoy the company of friends, rather than enter into an intense relationship. Horses who are already attached should beware of jealousy. Rumors and gossip can cause this sign to second-guess their partner's loyalty. Instead of becoming overly possessive, it would be better for this sign to show faith in their other half. The Year of the Fire Rooster rewards trust.
Sheep Love Horoscope
The indecisive Sheep could have difficulty finding love during the Year of the Red Fire Rooster. Time is of the essence throughout 2017. Adopting a wait-and-see attitude toward a love interest could result in a lost opportunity for this sign. Sheep who are already in committed relationships should be extra sensitive to their partners' needs. Self-involvement could result in terrible breakups. It's better for attached members of this sign to project their energy outward during this extroverted year. Compliments, gifts, acts of service, and kind gestures are strongly advised.
Monkey Love Horoscope
The disrespectful Monkey will have a hard time attracting romance during the Year of the Red Fire Rooster. While their sarcastic jokes may have won favor in the past, they will fall flat this year, which rewards sincerity. It may be better for members of this sign to focus on their careers than get seriously involved in a relationship. Those Monkeys who already have partners should beware of letting their attention wander. Disloyalty can be disastrous in a Rooster year. Stay true to committed partners.
Rooster Love Horoscope
The ardent Rooster may face some intense romantic competition in 2017. This shouldn't be a problem, as the faithful Year of the Red Rooster will reward members of its own sign. The thrill of the chase will be especially exciting for the Rooster this year, resulting in passionate alliances that could last a lifetime. Attached people of this sign should be careful about petty arguments with their partners. The Year of the Rooster can exacerbate arguments and heighten tensions. Working to find common ground will revive the Rooster's relationships.
Dog Love Horoscope
The pessimistic Dog might find love elusive during the upbeat Year of the Red Fire Rooster. Instead of looking for a partner who meets all the items on a check list, members of this sign would be better to have an open mind regarding romance. Dogs who are involved in serious relationships should watch their tempers. Angry outbursts can put a real strain on even the strongest unions. Brisk exercise and meditation can be welcome outlets for the Dog's emotional frustrations this year.
Pig Love Horoscope
Romance looks promising for the gallant Pig this year. Members of this sign will be especially attracted to love while traveling. Someone special with a sexy accent could make the adventurous Year of the Red Rooster one of the most memorable for this sign. Pigs who are already partnered will derive profound satisfaction from their unions. 2017 is ideal for this sign to get engaged or married to their other half. Buying a home with their spouse can also bring Pigs lots of pleasure this year.
Start your 9-Star Ki Forecast for personalized guidance now »