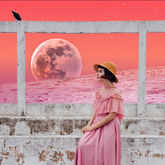 Lunar Eclipse in Aquarius: Brace for Drama
See what August's Full Moon Lunar Eclipse in Aquarius means for your sign

The Full Moon in community-minded Aquarius on August 7, 2017, is a Lunar Eclipse that makes it difficult to separate proud declarations of global concerns from unnecessary ego-centered threats. The Aquarius Full Moon is opposite the theatrical Leo Sun, which can be overly aggressive while it's still tracking closely with the angry red planet Mars. We won't need to go far to find drama, quite possibly creating a scene ourselves if resentment is fermenting beneath the surface.
The up side to this Leo Sun-Mars conjunction is that it blesses us with a blast of courage, empowering us to release our fears and attachments. Eclipses are often about letting go of something or someone. But even if the final outcome is positive, the transition can be bumpy, to say the least.
The opposition of the rational, collective Aquarian energy versus the passionate, personal Leo perspective can lead to fiery confrontations, where words are used as weapons to hit below the belt. However, the wisdom of the eclipse whispers to quit holding on to the past so tightly or suffer the consequences. We can't wait for anyone else to save us. We must be the change we wish to see while we have the chance.
Get to the bottom of your feelings and begin moving forward with a Self-Healing Bottom Line Tarot Reading now.
See how this Lunar Eclipse can impact YOU with your sign's horoscope below!
Aries Horoscope (March 21 - April 19)
You've had enough of people's stupidity and might overreact to an unsuspecting ally. Unfortunately, your response may be totally inappropriate, revealing your lack of information rather than anyone else's. The Aquarius Full Moon Eclipse destabilizes your 11th House of Friends, setting them up to receive the misplaced brunt of your anger. Fortunately, you can turn the energy around by choosing a path of creative self-expression instead of focusing on your negativity.
Taurus Horoscope (April 20 - May 20)
How you handle a domestic squabble has unforeseen consequences at work. The Aquarius Full Moon Eclipse rattles your 10th House of Career while it opposes warrior Mars in your 4th House of Family, setting your nerves on edge. On one hand, you might inadvertently allow your unresolved anger to overflow into the office without realizing the source. On the other hand, negotiating an acceptable resolution on the home front frees you up to fully attend to the pressures on the job.
Gemini Horoscope May 21 - June 20)
An unexpected change in your travel plans can send you scrambling as you attempt to salvage the best parts of your itinerary. The Aquarius Lunar Eclipse stresses your 9th House of Distant Horizons, forcing you to re-evaluate your current trajectory. But don't dwell on disappointment; change is required for good reason. Your positive attitude opens the door to possibilities you never considered.
Cancer Horoscope (June 21 - July 22)
An unexpected expenditure may require you to drop other plans while you reassess your current fiscal position. However, your personal finances are complicated by your relationship to others. At first glance, the entire situation might appear to be more troublesome than you expected, since the Aquarius Lunar Eclipse falls in your 8th House of Shared Resources. You could easily miss a simple solution if you try to solve the problem on your own.
Leo Horoscope (July 23 - Aug. 22)
You feel compelled to reach out to someone who could use a non-judgmental friend, especially if they seem to be covering their emotions with fake smiles or loud laughter. The intellectual Aquarius Full Moon Eclipse activates your 7th House of Relationships, separating your thoughts from your feelings. You are receiving mixed messages and need to get to the bottom of the paradox. Although your direct approach seems sensible to you, others might think you are being too forceful.
Virgo Horoscope (Aug. 23 - Sept. 22)
You take pride in discovering new ways to approach a job, especially if the routine becomes so boring you don't want to do it anymore. Although your strategy is sound, it can also lead to trouble if you go to extreme measures. The ingenious Aquarius Lunar Eclipse undermines the energy of your 6th House of Logistics; you might believe you've stumbled upon a brilliant idea, only to find that it's not very practical. A theory is only as good as its application. The door to efficiency swings on the hinges of common sense.
Libra Horoscope (Sept. 23 - Oct. 22)
You strive to create the perfect relationship, but your emotional needs may differ from those of your partner. The Aquarius Full Moon Eclipse floods your 5th House of Love and Creativity, instilling you with an unquenchable desire to express your passion. You might choose an artistic endeavor to communicate your heart's desire or you could simply come right out and say it. Either way, you need to feel independent to be true to your process. A healthy relationship is one where two individuals make a deal to encourage the best version of each other.
Scorpio Horoscope (Oct. 23 - Nov. 21)
You might be ready to walk away from a relationship commitment if it has a significant negative impact on your career. The Aquarius Lunar Eclipse agitates your 4th House of Security, urging you to think about those things that destabilize your life while the Sun-Mars combo in your 10th House of Status encourages you to focus on your chosen path. It seems like choosing one or the other is inevitable, but the only stable solution is to strike a balance between the personal and professional arenas of your life. Playing your cards carefully can leave you with the best of both worlds.
Sagittarius Horoscope (Nov. 22 - Dec. 21)
Adhering to your schedule is unlikely, especially if your plans collide with those of others. Normally, a simple conversation would be enough to resolve any conflicts, but the Aquarius Lunar Eclipse polarizes your 3rd House of Communication, putting reconciliation out of sight. It's healthier to acknowledge your differences in priorities and agree to disagree for now. Temporarily sidestepping a confrontation won't fix the problem, but can set the stage for a smoother settlement later on.
Capricorn Horoscope (Dec. 22 - Jan. 19)
Self-analysis is a useful tool as long as it doesn't impede your progress. Unfortunately, the Aquarius Full Moon Eclipse shakes up your 2nd House of Self-Worth, precipitating a crisis of confidence. You can't turn to others for help out of your malaise; they will only confirm it, leading you to believe you're stuck in an emotional cul-de-sac. Fortunately, it was not a one-way street that led you into this predicament. The solution is painfully simple because all you need to do is turn around and leave.
Aquarius Horoscope (Jan. 20 - Feb. 18)
People may assume you're acting in an erratic fashion but your odd behavior makes perfect sense to you. You are driven to reassess the direction of your life as the Aquarius Full Moon Eclipse zaps your 1st House of Self. Although others see your actions as spontaneous, and maybe even ill-conceived, you know how much serious thought has gone into your decisions. You have an opportunity to express yourself with more authority, as long as it comes from your heart.
Pisces Horoscope (Feb. 19 - March 20)
Although your coworkers may compliment you on your work, you may be taken aback because you think you're sleeping on the job. The Aquarius Lunar Eclipse illuminates your 12th House of Invisibility, enabling you to see how you slip into your daydreams to escape the pressure. You're quite aware of the extent of your visions, but it's still surprising when you realize that no one else is in on your little secret. Your guilt can create an imaginary rift between you and everyone else that is yours alone to process.
Start your Self-Healing Bottom Line Tarot Reading now for insight on how to overcome the past »