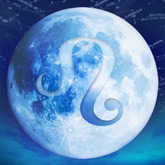 Full Moon in Leo Horoscopes
Things get complicated as Mercury Retrograde mixes with the Full Moon

The self-promoting Leo Full Moon on January 23, 2016, motivates us to bring previously hidden desires out into the light of day. However, we're still concerned about revealing too much too fast with Mercury nearing the end of its retrograde cycle. Although we want to express the love we're feeling, messenger Mercury's conjunction with passionate Pluto makes everything more complicated. Our words carry the weight of unspoken agendas and unconscious fears.
Rick Levine explains more about this Full Moon:

See how this Full Moon can impact your life over the next month with your personalized 30-Day Astrology Forecast.
Fortunately, the community-minded Aquarius Sun is opposite this Leo Full Moon, widening our horizons and enabling us to see beyond our individual perspectives. We must consider how our emotional needs clash with more global concerns. The Aquarius Sun reminds us of Mr. Spock's Vulcan creed, "The needs of the many outweigh the needs of the few." Thankfully, we can successfully postpone the pursuit of personal pleasure to avoid instability, because accommodating Venus shifts into dutiful Capricorn only a few hours prior to the dramatic Leo Full Moon.
Keep reading to learn about the effects of this Full Moon on YOUR sign.
Aries Horoscope (March 21 - April 19)
You might believe the strength of your convictions is enough to overcome a challenging relationship issue. The Leo Full Moon emphasizes your 5th House of Self-Expression, possibly triggering an emotional outburst that can help your cause as long as you remain reasonable. Don't ride roughshod over other people's feelings; if you inadvertently offend anyone, be gracious and apologize as soon as you realize your mistake. Rather than fanning the flames of drama, let it go. Take the high road and move forward to love.
Taurus Horoscope (April 20 - May 20)
Your tireless patience with a domestic concern is stretched to the breaking point as the Leo Full Moon activates your 4th House of Family. The dynamics of a minor crisis are complicated by pressures that prompt you to juggle the private aspects of your life with public responsibilities. Just don't let laziness get in the way of what must be done. Start early in the day and apply yourself steadily until all of your personal and professional obligations are wrapped up to your satisfaction.
Gemini Horoscope May 21 - June 20)
Planning for the future is just as necessary as keeping up with your current commitments. However, the fiery Leo Full Moon is shining in your 3rd House of Immediate Environment, indicating that your life is incredibly busy. Consider where you want to go from here and start creating proactive plans to reach your goals. Achieving tangible success may take longer than you think, but don't let frustration hijack your ambitious trajectory. Believing in your dreams is the first step to making them real.
Cancer Horoscope (June 21 - July 22)
You Crabs are naturally more susceptible to the energy of the lunar cycles than the other signs, and the proud Leo Full Moon highlighting your 2nd House of Values is no exception. You feel a sense of urgency to hold on tightly to your current position. Nevertheless, a project that hasn't reached fruition might begin to lose its appeal, making you wonder if it is wiser to walk away before it's too late. Pushing your current work ahead as long as it's still relevant is more productive than heading back to the drawing board.
Leo Horoscope (July 23 - Aug. 22)
You may seem extremely intense while the extroverted Leo Full Moon illuminates your 1st House of Self. Luna's opposition to the willful Sun in your 7th House of Relationships can trigger contentious arguments, especially if you just assume communication will solve a difference of opinion. Actually, you might scare someone away with your brazen confidence. Instead of acting like a know-it-all, just explain your thought process and then listen to everyone else's story with a generous heart. Roar less, purr more.
Virgo Horoscope (Aug. 23 - Sept. 22)
You must respond to an emotional dilemma as the demonstrative Leo Full Moon exposes your 12th House of Secrets. You are obsessed with figuring out how you can express yourself while also maintaining your privacy on certain aspects of your life. Partially sharing information can be tricky business because you may find it tough to stop talking once you start. Set clear limits before you open your mouth, so there's no ambiguity as to how far you will go in your disclosure.
Libra Horoscope (Sept. 23 - Oct. 22)
You might inadvertently squelch the fun at a social gathering when the warmth of your key planet Venus is constrained by her arrival in conservative Capricorn. Nevertheless, the playful Leo Full Moon reflects your 11th House of Friends, encouraging you to tell someone what you need. Luckily, others will take you seriously without misunderstanding your demands if your intentions are pure. Fortunately, with a little diplomacy you can be an integral part of the group while also acting in a responsible manner.
Scorpio Horoscope (Oct. 23 - Nov. 21)
It's natural to express yourself passionately in your work because the Leo Full Moon heats up your 10th House of Career. Paradoxically, you can maintain a sense of objectivity even if your emotions are an integral part of the equation. But don't wait for people to create your reality; instead of sitting on the sidelines or playing the role of a cheerleader, go out there and make something happen. Visible progress may take longer than you expect, so let your faith and determination lead the way.
Sagittarius Horoscope (Nov. 22 - Dec. 21)
Your heart is fixed on setting aside your previous plans so you can pursue a bigger and better goal. The melodramatic Leo Full Moon amps up your 9th House of Adventure, but keeping your life in balance is a smarter strategy. Unfortunately, you could miss a real opportunity if you aim too high. Follow a practical course of action, instead of jeopardizing your emotional and fiscal security. Thankfully, you can meet your current obligations while still holding onto your dreams for the future by coloring within the lines.
Capricorn Horoscope (Dec. 22 - Jan. 19)
Although you might be afraid that people will judge you negatively, your authority doesn't need to slip as long as you are honest about your concerns. The lively Leo Full Moon fires up your 8th House of Deep Sharing, feeding fears if you're feeling emotionally vulnerable. Meanwhile, Venus shifts into your reserved sign, tempting you to overcompensate by hiding your feelings. However, once you start taking risks by sharing what's in your heart, your attitude will lighten. Laughter is the best medicine, especially if the truth is a bitter pill to swallow.
Aquarius Horoscope (Jan. 20 - Feb. 18)
Opening your heart is advisable as long as you don't go overboard with your true confessions. The childlike Leo Full Moon casts your 7th House of Relationships in the spotlight, provoking you to share your feelings about your romantic attractions. Just remember that what you don't say might have greater significance than what is spoken aloud. If you come on too strong, people may worry that you expect something in return. Just casually express what's on your mind and then allow the rest of the story to unfold on its own.
Pisces Horoscope (Feb. 19 - March 20)
Nearly any physical exercise will help calm your nerves, but you'll feel much happier if you accomplish something useful while exerting yourself. The innocent Leo Full Moon brightens your 6th House of Work, creating a palpable tension between your playful desires and your current obligations. Of course, you can reduce the stress by expending some of your excess energy sweating at the gym. However, you earn karmic bonus points if you channel your passion into furthering your ambitions.
Look at your Astrology over the next whole month with your personalized 30-Day Astrology Forecast »