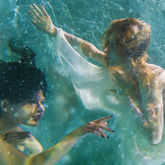 Your Mercury Retrograde in Pisces Horoscope
Stuck between the past and the future...

Take a breath and know it'll all be OK ... ready? Mercury is going retrograde again! From March 5-28, 2019, Mercury will retrograde through the nebulous sign of Pisces. Feelings, relationships, ideas, and situations from the past can resurface during this time, giving you a chance to revisit things and advance them further, understand them better, or find the closure you need.
The real news with this retrograde, though, is timing. On March 6, the very next day after Mercury turns retrograde, there's a New Moon that's happening in the SAME part of your chart as Mercury Retrograde. This New Moon wants you to plant seeds for your future and focus on forward growth. So how are you supposed to look ahead when Mercury has you stuck in the past?!
Oh, and if that wasn't enough, ANOTHER major planetary transit is also happening on March 6. Uranus will move into Taurus for the first time in 84 years! This is not happening in the same part of your chart as Mercury Retrograde, but you will certainly feel it!
Now it's time to reveal how the planetary conundrum that is Mercury Retrograde could play out for you...
Aries Horoscope (March 21 - April 19)
During this Mercury Retrograde you're the unlucky winner of a 12th house transit... That means Mercury is backtracking through the part of your chart that deals with pain from the past, and he'll be dredging it up in the present. Whether it's a nagging memory or an actual person that resurfaces though, this isn't meant to hurt you -- it's meant to remind you of some lessons you've forgotten along the way. These lessons can help you find the healing you need to move beyond these painful feelings for good. The New Moon in Pisces wants you to start tying up these loose ends right now, but have patience. You'll be more successful if you use this time to identify your needs, then start taking actual steps once Mercury is moving direct again. 
Reveal what or who could resurface for you during Mercury Retrograde »
Taurus Horoscope (April 20 - May 20)
With Mercury retrograding through your 11th House of Friends and Groups, you could feel disconnected from people you normally feel you're on the same page with. You may be having a hard time reaching out, or perhaps you feel like you don't really belong. A friend you had a falling out with in the past could even resurface in your life now. The New Moon that's happening in the same part of your chart is urging you to connect with new people and set your sights on the future, but there's work to do in the present first. Use this valuable time to assess the friendships that are already in your life and the groups and causes you associate yourself with. Some of these may have run their course with you, and it's time to move beyond them to make room for those new connections.
Get personalized guidance on what to leave behind during this retrograde »
Gemini Horoscope (May 21 - June 20)
Mercury Retrograde can be a special kind of frustrating for you, Gemini, because Mercury is your ruling planet. During this particular retrograde, the most potentially frustrating area of your life is going to be your career. The New Moon happening on March 6 could bring multiple professional opportunities your way, but during Mercury Retrograde, this will feel more like a problem than a blessing. Your mind could run in circles as you try to compare the pros and cons of your options, or maybe you're not even sure that either option is an improvement on where you already are. The very best way you can use this time period is to solidify your goals. Once Mercury turns direct, it'll be much easier to see which opportunity is most aligned with your ambitions and life purpose. 
Reveal which professional opportunities could really pay off for you »
Cancer Horoscope (June 21 - July 22) 
You're one of the lucky few! This Mercury Retrograde has a lot more benefits in store for you than it has problems. While Mercury travels backward through your 9th House of Education and Expansion, you have a great opportunity to resurge a hobby or course of study that interested you in the past. Whatever the circumstances were before, things are different now and it's a better time to pursue what has always intrigued you. It could truly change you. And, thankfully, the New Moon that's happening in the same part of your chart totally supports a fresh start! 
Reveal the fresh start that awaits you during this retrograde period »
Leo Horoscope (July 23 - Aug. 22) 
If you don't have your finances in order, this could be a troubling Mercury Retrograde for you. Are you behind in your retirement savings? Are your investments failing? Not knowing where you stand could cost you. Use this valuable time to find out what your money is doing for you. If you don't like what you're seeing, plan the adjustments you need to make. The New Moon that's happening in this same part of your chart could bring an unexpected windfall your way -- and you may need to use it to correct a previous financial blunder. (Side note: Mercury is retrograding through your 8th house during what is tax season for many of you, so you'll want to be especially careful that you double check all your paperwork! Even the smallest error could delay the process.)
Get guidance that will help you avoid a financial disaster during MRx »
Virgo Horoscope (Aug. 23 - Sept. 22)
Well, shoot. This Mercury Retrograde, your ruling planet will be traveling backward through your 7th House of Relationships, bringing some stress or confusion to at least one one-on-one relationship in your life. It's possible you and your romantic partner will have a hard time communicating, or perhaps an issue you thought was resolved between you and a coworker isn't as resolved as you thought. The New Moon happening in this same part of your chart can bring opportunities for new love into your life ... so be careful! Something fresh and new is enticing, but a relationship started during Mercury Retrograde will probably have its fair share of problems in the long run... Consider yourself warned!
Find out how you can avoid a romantic breakdown during MRx »
Libra Horoscope (Sept. 23 - Oct. 22)
While Mercury retrogrades through your 6th House of Daily Routine, it's likely you'll experience a lot of little mishaps over the next few weeks. The bad news is, they could totally frustrate your day, but the good news is they shouldn't derail your whole life. A key area of focus, though, should be your health. Don't ignore those little pains, funny feelings, and small changes to your body! Schedule a physical. Do your research. You cannot fix a problem if you don't know what the problem is. A New Moon is happening in the same area of your chart, supporting a new health regimen. Get in front of it! 
Reveal the hidden issues that you should keep an eye on »
Scorpio Horoscope (Oct. 23 - Nov. 21)
You're the most passionate sign out there, so when things are standing in the way of your love life, it can be especially discouraging for you. With Mercury retrograding through your 5th House of Romance though, this is exactly what you can expect. Situations may arise now that cause you to re-evaluate how you show love and how you express yourself. The New Moon that's also happening in your 5th house wants you to meet new people and enjoy fresh feelings, but Mercury Retrograde has you clinging to feelings from the past. If you use this retrograde period to identify which perspectives and patterns are no longer serving you, once Mercury turns direct you and your heart can truly start anew.
Reveal the outdated love beliefs that have been holding you back »
Sagittarius Horoscope (Nov. 22 - Dec. 21)
Mercury brings trouble close to home during this retrograde! While the New Moon in your 4th House of Home and Family could spur you to sell or buy a home, renovate, or add a new member to your family, Mercury Retrograde in this same part of your chart will surely bring a few speedbumps to the process. Facts are fuzzy now, so read the fine print and double check all the details in your contracts. Be especially clear when communicating with relatives, too. This retrograde, you should still try to move things forward in this area of your life -- just very carefully!
Get insight into how you can avoid chaos in this area of your life »
Capricorn Horoscope (Dec. 22 - Jan. 19)
Read the fine print. Read between the lines. Read any and every little bit you can, because Mercury is going to retrograde through your 3rd House of Messages and Communication! During this retrograde you could experience a lot of headaches when it comes to details, miscommunications, and general mishaps. The more you check and double check your facts, the better off you'll be. The New Moon that's also happening in this part of your chart is a signal to begin a new communication or writing project, but with Mercury now retrograde, you'd be smart not to start anything just yet. Instead, use this time to plan and prepare so you can really take off once Mercury is direct!
Reveal the tiny details that could trip you up during Mercury Retrograde »
Aquarius Horoscope (Jan. 20 - Feb. 18)
You've got your money on your mind this Mercury Retrograde, Aquarius! While Mercury is backtracking through your 2nd House of Income, the focus is on your cash flow. If you're spending more than you're making, this could blow up in your face now. But if the problem is that you're not making what you're truly worth, now is the perfect time to consider ways to change this. The New Moon that's also happening in this part of your chart can bring a great moneymaking opportunity your way, but if you're confused about the details or unsure of your value, you might lose money without even knowing it. Be especially careful when reviewing bank statements and tax forms, too -- you may prevent a costly error!
Get advice on making the most of your financial situation during MRx »
Pisces Horoscope (Feb. 19 - March 20)
Bad news first: Mercury Retrograde is happening in your sign. For most of March, you could feel a bit unsure of yourself and your choices. The things you used to be certain of seem confusing now, and you may feel like you're walking around in a fog. Don't act when your perspective is so fuzzy, though. This uncertainty is temporary, and you'll want to wait it out before you make any rash changes. The good news is: there's also a New Moon happening in your sign! This New Moon is a promise of a fresh start or personal awakening coming up for you. Once the clouds part, you'll see your opportunities shining.
Get the fresh perspective needed to see your opportunities clearly »