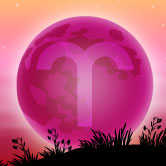 New Moon in Aries Horoscopes: Brilliant Breakthroughs
Read your sign's horoscope for the New Moon in Aries

On April 15, 2018, the New Moon will rise in pioneering Aries. An upsurge of energy will prompt people to declare "out with the old and in with the new!" Instead of sticking with predictable formulas, we'll see fresh ideas in virtually every area of life, including fashion, sports, movies, and politics. To channel the power of this New Moon, it's better to break away from the group and offer a unique alternative.
Because this New Moon is teaming with original Uranus, extraordinary breakthroughs can occur in mid-April. Anyone who is struggling with a decision between two dull alternatives could be pleasantly surprised. In many cases, a fabulous third option will appear out of thin air. Incredible changes can occur when you wish upon this extraordinary New Moon. Read your sign's New Moon Horoscope below to learn more...
Get the insight you need for the new beginnings happening in your life with a Celtic Cross Tarot Reading now.
Aries Horoscope (March 21 - April 19)
You have a powerful desire to express yourself freely. Making a bold proposal that challenges conventional thinking is favored near this New Moon. People who opposed you in the past will be more receptive to your ideas. Seize this rare opportunity to promote something new, dynamic, and exciting. It doesn't matter if you've invented a gadget or developed an app or created a product; your success is virtually guaranteed.
An unusual friend will encourage you to transform your look in some way. Undergoing a dramatic makeover will be lots of fun. Challenging traditional concepts of beauty is strongly advised. Your fresh image will cause a commotion and turn heads. Standing apart from the crowd will attract romantic, financial, and creative opportunities.
Get more insight into the messages this New Moon has for YOU now »
Taurus Horoscope (April 20 - May 20)
This New Moon invites you to develop your creative potential. You have a reputation for being a practical person who is capable of hard work. While this is true, you're also enormously creative. Retreat to a private place where you can let your imagination run wild. Working with art supplies like paint, clay, and paper can be enormously inspiring. Don't be surprised when you discover an affinity for a medium you've never tried.
Learning how to operate cutting-edge technology or software can put you on an exciting new career path. If you've become tired of a steady but predictable job, this is your chance to land a more stimulating position. Apply to companies that reward innovators.
Get more insight into the messages this New Moon has for YOU now »
Gemini Horoscope (May 21 - June 20)
Surrounding yourself with offbeat rebels has a strong impact on your own views. Instead of looking for ways to blend in with the crowd, you've become more comfortable with embracing your unique qualities. Rather than trying to fit some cookie-cutter standard, you'll develop a formula that works for you. This willingness to challenge the status quo will attract admirers and win support.
You'll get a chance to work on a humanitarian cause that is close to your heart near this Full Moon. Finding ways to make the world a better place will be liberating. Instead of feeling consumed by questions of money or status, you'll be continually reminded of what is truly important in life. Being a good citizen will not only be rewarding, but also revealing.
Get more insight into the messages this New Moon has for YOU now »
Cancer Horoscope (June 21 - July 22)
An extraordinary career opportunity is on the way around this New Moon. You might be chosen from thousands of applicants to head a department. Alternatively, you could get a chance to work for a cutting-edge entrepreneur. It's even possible that you will be given a job overseas. Whatever this development, it will involve tremendous professional advancement.
Get more insight into the messages this New Moon has for YOU now »
It's also possible you will be at the forefront of political, cultural, or social change. People are impressed by your courage to challenge outmoded ideas and stuffy institutions. You can inspire these fans to build a more equitable society that allows people to be themselves, instead of conforming to some predictable norm. Under your leadership, people are inspired to fulfill their potential.
Get more insight into the messages this New Moon has for YOU now »
Leo Horoscope (July 23 - Aug. 22)
Follow an impulse to go on a long-distance trip around this New Moon. Visiting a modern city will get your creative juices flowing. Always keep a camera and journal with you, as this record of your travels can be turned into a novel, song, or screenplay. At times, your belief system will be challenged. Instead of becoming defensive, open yourself to this new way of thinking. You don't have to change your convictions, but it will help to become more open-minded about other people's values.
A change in the law could make it possible for you to further your education. Studying abroad, getting a scholarship, or working as an intern are all good ways to gain the knowledge and experience you need to prosper.
Get more insight into the messages this New Moon has for YOU now »
Virgo Horoscope (Aug. 23 - Sept. 22)
The New Moon will give an extra boost to your charisma. If you're looking for love, you'll find it easily. Don't be afraid to make the first move on the object of your affection. Having the courage to go after who you want will amplify your success in every area. If you're already in a relationship, this would be a good time to explore new techniques in the bedroom. Your pioneer spirit will pave the way to a satisfying encounter.
It's possible an unexpected windfall will arrive. Whether you get a legacy, legal settlement, or royalty check is unimportant. Use this money for a technological upgrade. Getting a new car, computer, or smartphone will increase your efficiency.
Get more insight into the messages this New Moon has for YOU now »
Libra Horoscope (Sept. 23 - Oct. 22)
A professional or romantic partnership will work to your advantage. You might not even be looking for an alliance. This will change in the days surrounding the New Moon, when you cross paths with a unique individual. Just being in this person's company will fill you with excitement. Between their dynamism and your diplomacy, the two of you can build a lucrative business or joyous life.
If you're in a relationship, your other half will get some exciting news. A job offer, creative opportunity, or health breakthrough will mark a fresh start for you, too. The changes ahead will benefit you both; embrace this marvelous turn of events.
Get more insight into the messages this New Moon has for YOU now »
Scorpio Horoscope (Oct. 23 - Nov. 21)
You've turned a corner with a health regimen. Changing your dietary, sleep, and exercise habits has resulted in a surge of energy. Suddenly, you'll not only be able to dispatch your responsibilities, but enjoy your favorite hobbies as well. After work, you'll rush off to a romantic partner or creative project that fills you with hope. This is not an accident. When you feel great physically, you attract exciting adventures in all forms.
An unusual job may appear out of thin air near this Full Moon. Accepting this position is strongly advised. You'll acquire some valuable technical skills that will make you a hot commodity on the professional market. You'll enjoy having your pick of work assignments.
Get more insight into the messages this New Moon has for YOU now »
Sagittarius Horoscope (Nov. 22 - Dec. 21)
It's possible you'll fall in love at first sight around the time of the New Moon. If you're single, following an impulse can lead to a passionate encounter. The object of your desire will share your sense of adventure. Instead of shying away from a commitment, you could eagerly make a serious commitment. Do you already have a partner? Return to the early days of your courtship. Spontaneous romantic gestures will make it feel like you're falling in love all over again.
A bold idea for a creative project could occur to you while exercising. Make sure to record this concept on your smartphone, as you won't want to forget a single detail of this brainwave.
Get more insight into the messages this New Moon has for YOU now »
Capricorn Horoscope (Dec. 22 - Jan. 19)
An extraordinary real estate opportunity could fall into your lap near this New Moon. Whether you want to sell or buy property -- or both -- this is the time to do so. Don't waste time deliberating over bids. Trust your intuition and go for the gold. If you're staying put, your living situation could get much better with very little expense to you. A home improvement show might offer to upgrade your kitchen for free or your property manager could invite you to move into a better space. Go for it!
Exciting changes could also occur on the family front. Throw a party to celebrate an engagement, marriage, or pregnancy. This turn of events will be joyous for the entire group.
Get more insight into the messages this New Moon has for YOU now »
Aquarius Horoscope (Jan. 20 - Feb. 18)
You've been blessed with tremendous intellectual gifts, but aren't always able to use them effectively. That will change with the arrival of the New Moon. Taking or teaching a class is a strong possibility. So is giving a lecture or recording a podcast. Sharing information with the world will give you an attractive glow that is impossible to resist. If you're single, you could fall in love with someone who is a big fan of your work. Do you have a partner? Your stimulated brain will inspire new lovemaking techniques.
The chance to go on a last-minute trip is worth taking. This impromptu journey could launch a wonderful writing project. Never underestimate the power of a change of scenery on your imagination.
Get more insight into the messages this New Moon has for YOU now »
Pisces Horoscope (Feb. 19 - March 20)
You may not be looking for one, but a moneymaking opportunity will be hammering at your door around this New Moon. Don't turn it away; greet it with open arms. Working with a cutting-edge company or technologically advanced equipment will be profitable. If you're unfamiliar with this industry, don't worry. Hit the ground running -- you'll pick up everything quickly and easily. There's a chance you'll discover a hidden talent for an emerging field.
Developing an interest in an unusual art form is another possibility. Using modern machinery to preserve ancient work will give you a new lease on life. What begins as a hobby could evolve into a lucrative job. The secret to your success is saying "yes" to unusual offers.
Get more insight into the messages this New Moon has for YOU now »