New Moon in Sagittarius Horoscopes: Hold Your Horses
Read your sign's horoscope for the New Moon in Sagittarius now!

The happy-go-lucky Sagittarius New Moon on December 18, 2017, is the life of the planetary party, but with scrupulous Saturn acting as chaperone, it is unlikely the fun and games will last for long. Exuberant overindulgence is a common theme during the holiday season, but the price to pay for stepping over the line may be much steeper this year. Retrograde Mercury adds an element of mischief or misery depending on one's capacity for laughing at the absurdities of life. Any individual who takes themselves too seriously now will struggle as they run into resistance wherever they go. Slow down and find the middle lane. Don't be blinded by optimism or deflated by pessimism. Saturn won't rain on your parade if your dedication matches your enthusiasm. In fact, if you do all your homework, nail the exam, and correctly answer the bonus questions, support and validation are well-earned rewards. The harder you work, the sweeter the applause.
Half full or half empty?
The cosmic regulators, Jupiter and Saturn, are pushing and pulling everyone through an obstacle course of extremes during this philosophical New Moon. Mercury Retrograde adds its own shade of distortion and confusion to the mix, warping perceptions of time and exacerbating misunderstandings. If you listen carefully, you can hear two distinct voices battling to win influence over your thoughts, swinging your confidence like a pendulum now. Permissive Jupiter flashes a green light, only to have restrictive Saturn drop a detour on the road ahead. Freedom calls, but parental Saturn took away your phone. Wherever Jupiter shouts a jubilant yes, Saturn gives a stern no. Mercury haphazardly shuttles messages between worlds, unsure of where to safely land. Look around and locate where this planetary dichotomy is occurring in your life and observe your reactions. Work on becoming as centered and grounded as possible with a daily meditation practice, regular physical exercise, and time spent unplugged from all the worldly noise. And as for the ubiquitous question ... it's up to you to change the old, tired, binary structure and break the glass.
Patience builds character
Make-it-real Saturn demands that you get all your ducks in a row before you can expect to receive any rewards. Keeping humble and putting in the necessary work is the fastest route to success, which means determination and willpower are essential ingredients, too. Mercury will go direct on December 22, but major progress isn't likely to happen until early next year. Remember the "rule of re" and use this period of reflection wisely. Reconnecting with friends and family members, reorganizing closets and shelves, and revising your New year's resolutions are constructive ways to redirect the retrograde energy in your favor. You may ache to start your new endeavor now, but there is a good reason to adopt an active waiting stance instead. Turn challenges into opportunities for personal growth. Counter disappointment with generosity, suffer delays with patience, fight fear with compassion, and give without expectation. The hero is the one still standing at the end.
Discover how this New Moon can launch you into 2018 with personal guidance from a Timeline Tarot reading here.
New Moon Tools: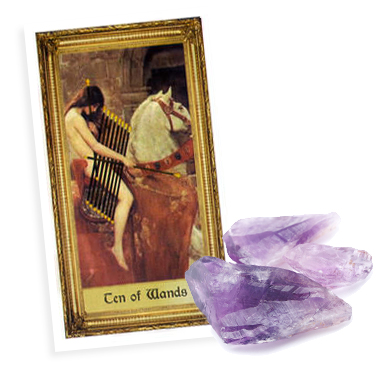 Tarot card for this New Moon:
Ten of Wands from the Sacred Art deck
Centaurs are half-human, half-horse creatures from Greek mythology associated with the sign of Sagittarius. Although this mere mortal and magnificent mare are two different entities in the card, the natural ease in which the rider sits in her saddle is a nod to the mighty Centaur. The suit of Wands represents the element of Fire, indicating action as an answer to any question. The adventurous traveler on her trusty companion hopes to explore uncharted worlds and discover many treasures along her journey. However, the ten Wands are a cumbersome weight she must carry everywhere she goes per Saturn's complicated instructions. Mercury's retrograde adds to the confusion and delay, leaving our poor traveler deep in reflection as she recalculates her route to enlightenment.
Crystals for this New Moon:
Amethyst (pictured): pleasing purple hues and calming energy make this stone one of the most popular treasures of the mineral kingdom. Amethyst assists in alleviating stress, relieving homesickness, facilitating meditation, enhancing intuition, and fighting addictions.
Orange Calcite: soothes the heart, inspiring optimism, joy, and creativity. This cheerful stone is an excellent ally for finding new solutions to old problems, breaking out of old patterns and revitalizing sexuality.
Turquoise: this is known to be one of the longest used gemstones, dating back to Iraq in 5000 BC. In both Hindu and Persian beliefs, seeing the New Moon and turquoise at the same moment is an omen of good fortune. Turquoise is one of the ancient gemstones for Sagittarius, offering protection for short trips, long distance travel, or astral projection. This sky-blue stone promotes truth-telling and self-expression. An adrenaline junkie's friend, turquoise provides emotional balance and grounding energy during peak experiences.
---
This inspirational Sagittarius New Moon challenges you to remain present even when you wish you weren't. Stop looking for an exit, take a deep breath, and count your blessings. Plant the seeds of patience and purpose provided for you below, in preparation for the year ahead.
Aries Horoscope (March 21 - April 19)
Adventure is calling your name near this New Moon, and you can't wait to embrace the future as it beckons from the horizon. Your optimism overflows as you pack your bags, envisioning the ideal itinerary in your head. But you might be misreading the signals from the cosmos if you trot around the globe -- running into detours, delays, and disappointments. The real journey is within the mysterious back corners of your heart. Old patterns and past issues recycle to offer you another chance at reconciliation or resolution. Your first impulse might be to promise the moon and stars in an attempt to demonstrate your commitment to a cause or a relationship, but keeping it real is the best way to build a strong foundation of trust. Your seed to plant: honest vulnerability
Taurus Horoscope (April 20 - May 20)
Overindulgence is your middle name now, but who can blame you for squeezing every joyful drop out of life when so many delicious delights are dancing in your direction? Trouble arrives on the scene if you assume you are immune to the power of intoxicants, deny the inflated cost of a spending spree, or lightly dismiss the price of someone's heart. Stop your pleasure train so a friend or partner can jump on board. Discussing your feelings encourages an open dialogue where you can reconnect on a deeper level. Relationship reconstruction may be a far cry from your original plans, but stability is within your grasp if you're willing to sit down at the table and share your heart. Your seed to plant: mindful moderation
Gemini Horoscope (May 21 - June 20)
Your irrepressible curiosity is one of your best assets, but a million ideas are bouncing all over your brain near this New Moon, leaving you with an odd mixture of excitement and dread. You want your relationships to thrive, but a nagging need for independence prompts you to re-evaluate what you give and what you receive in return. Romantic fairytales may finally be debunked, but imperfect love is real and raw. Stuff you can usually talk about might get stuck in your throat, but there are other means of communication than just words. Devotional acts of service reflect the true nature of your heart. Your seeds to plant: consideration and kindness
Cancer Horoscope (June 21 - July 22)
Your enthusiasm spills over as you feel a sense of urgency to break free from your normal routine and expand your horizons around this New Moon. Taking small steps seems impossible when you are certain you're already running late to meet the opportunity of a lifetime. Slow down or you will end up spinning in circles. The only race is the one going on inside in your head. Reassess your daily habits; toss out the ones that impede your progress and refine the ones that serve your goals best. There's no rush to get from Point A to Point B while there is still so much work to finish. Focus on what matters most and your future will fall into place. Your seed to plant: passion for excellence
Leo Horoscope (July 23 - Aug. 22)
Pursuits of creativity and pleasure are just what the cosmos ordered especially for you, but you might have to postpone the fun due to previous obligations and professional responsibilities. The cookie jar is on the highest shelf just out of your reach, and you are not a happy camper. No one likes to be told no, especially when you're considered royalty in the jungle, but working harder for a more substantial treat is worth the extra effort. Your muse is impatiently waiting for your arrival. Reconnect with your heart by returning to your roots. Your seeds to plant: insight and inspiration
Virgo Horoscope (Aug. 23 - Sept. 22)
The idea of recreating certain childhood memories sounds lovely, but if you try to test it as a theory, you may discover that the portal to your past is closed for renovation. Don't let disappointment dampen your holiday spirit even if your ego feels a little bruised and tattered. There's plenty of action going on at home to keep you humming a happy tune if you're willing to remain joyfully present in the moment. Accept the invitation to engage in a heart-to-heart conversation when someone needs you to actively listen. You receive the most when you give effortlessly from the heart. Your seed to plant: hope for the future
Libra Horoscope (Sept. 23 - Oct. 22)
You're weary of being so busy fulfilling other people's expectations that your own wishes get misplaced in all the rush. Once again, you are traveling for obligation instead of pleasure, and you can't help but wistfully gaze at the plane heading for a secluded tropical island. Luckily, your craving for more meaningful interactions is stronger than your need for solitude or your desire to prove your self-sufficiency. The truth is, you sincerely enjoy making those you love happy and basking in their appreciation is a gift onto itself. Clear communication is always a work in progress. Readjust your priorities near this New Moon to match your heart. Your seed to plant: healthy boundaries
Scorpio Horoscope (Oct. 23 - Nov. 21)
Prosperity often blooms where practical planning, sheer determination, and sweat equity are the main ingredients in the soil. Reaping a record harvest might make you think the sky is the limit, but downplaying the potential keeps you from falling on your face. Although your optimism is empowering, it can also blind you from the facts. It is easy to get swept up in the temporal pleasure of material rewards, but they won't keep you satisfied for long. Your craving for transformative experiences and passionate connections is too strong to deny around this New Moon. Go deep or go home. Your seed to plant: fiscal responsibility
Sagittarius Horoscope (Nov. 22 - Dec. 21)
"Hurry up and wait" may as well be your slogan these days as the cosmos continues to send you mixed signals around this New Moon in your sign. The good news is your positive vibrations keep your spirits up now, even if you're performing an awkward two-steps-forward, three-steps-backward dance that leaves you nowhere near your desired destination. Speaking your truth is essential but your message may be misconstrued at first. The weight of the world is being lifted from your shoulders soon, and you deserve a moment of celebration and reflection. There is little time to waste and much work to be done before the red lights turn to green. Your seed to plant: dogged perseverance
Capricorn Horoscope (Dec. 22 - Jan. 19)
It's mere hours before the cosmic marathon starts and your adrenaline is pumping loudly as you quietly anticipate the journey ahead. You've prepared long and hard for this feat of endurance; you're eager to demonstrate your skills and prove your strength. Harness your energy for a little while longer by reviewing lessons learned in the past and realigning your actions with your life's purpose. Your dreams hold the key to your worldly success. Recalibrate your center of gravity before the real work begins. Establish an ambitious goal and then run a pace you can sustain. Your seed to plant: irreproachable integrity
Aquarius Horoscope (Jan. 20 - Feb. 18)
It sounds like your favorite song on the radio, but turning up the volume only amplifies the static and aggravates your nerves. The margin of error is tiny near this New Moon, even if your intentions are of the highest nature. The cosmic party occurring in your social network is both enlightening and entertaining, if only you didn't have your own ambitious dreams to chase. The confidence you gain from being an integral member of the community makes any self-sacrifice worthwhile. Misunderstandings and miscalculations are likely, but if you recommit to the group process everyone will come out a winner. Your seed to plant: undying loyalty
Pisces Horoscope (Feb. 19 - March 20)
You may feel like banging your head against the wall around this New Moon, but there is no time for dramatic gestures or angst-provoking doubt. Keep the fires of faith burning in spite of minor adversities or snarky comments from the peanut gallery. There are bound to be complications and complaints when you throw so many variables into the mix. Reconsider streamlining your strategy to boost your productivity. Redefine your position to add more clarity to the situation. The potential for achievement is limitless if you fiercely commit to your vision of success. Your seed to plant: unwavering self-confidence
Content written by Morgan Friday
Start your Timeline Tarot reading now to see what the near future holds for you personally.