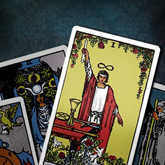 Site Update: The Crowley Deck

Tarot deck alert! For our thousands of fans of the Crowley Tarot deck, we are making a necessary change that we want to inform you about.
The copyright rules for the Crowley deck have changed, and the publisher has requested that we remove it from Tarot.com.
The Crowley Tarot deck -- which features fantastic Art Deco imagery by the famous mystic Aleister Crowley -- is one of our favorites, too, so we want to assure you we are actively seeking to get it back on the site.
In the meantime, if you had Crowley preset as your favorite Tarot deck, your future Tarot readings will be reset to the classic Rider-Waite Tarot deck -- but all of the saved readings in your journal will remain Crowley.
The good news is, we have more than 75 other beautiful Tarot decks you can choose from. If you liked the Crowley deck, you might also like Tarot of the Spirit, which is designed to bring the mind to a higher level of consciousness; or the Aquarian Tarot deck or the Palladini Tarot deck, which also feature Art Deco inspired illustrations by David Palladini.
You can browse all of our Tarot decks here to find one than speaks to you, and it's easy to set your new deck as your preferred deck. The next time you do a reading, simply select the name of the deck from the drop down menu and choose the "Make this my default deck" button to the right.
We hope you'll enjoy your new preferred deck and we'll be sure to let you know if and when we are able to return the Crowley deck to the site. Thanks so much!