Browse Tarot Card Decks
Previous Deck:
Dark Exact
Next Deck:
Dragon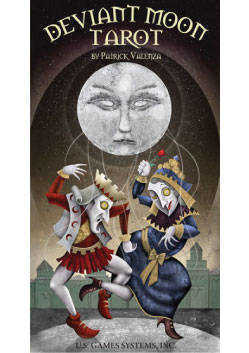 Deviant Moon
The Deviant Moon Tarot deck is inspired by childhood dreams, and features moon-faced characters created by manipulating photographs of 18th century tombstones. This deck's surreal images, set against industrialized backgrounds, speak to the theme of duality — and sparks readers' imaginations.
Deviant Moon Deck Preview:
From the U.S. Games Deviant Moon booklet:
The Deviant Moon Tarot deck was created using various forms of photographic manipulation. Each card began with a complete drawing, which was then scanned into the computer where I applied various photographic textures. Nineteenth-century tombstones provide most of the clothing worn by the citizens of the Deviant Moon. I bent, twisted, and reformed my photos to become capes, boots, hats and trim. One of the best aspects of creating the deck was "hunting" for specific textures as I respectfully tiptoed around the graveyards of eastern Long Island, New York. Background buildings were created with photographs I took of a local abandoned insane asylum. Rotted doors, windows and walls became castles, factories and cities.

My character stylization was influenced by ancient Greek art, yet I added a slightly abstracted twist. I chose to draw the figures in a flat, playing card style, rendering them with heavy light and shadows, then placing them in a shallow background.

As I worked, different styles emerged, and before long the characters evolved into the moon-faced beings seen in the cards. Symbolism for the deck comes from childhood dreams and imagination that carried itself into my adult world. I have always been intrigued with the melancholy side of life and have sought to express my visions through the characters I create. The moon has always been a psychic friend to me. As the sentinel of the night, it feeds my dreams and casts a strange glow on the way I see the colors of reality.

Nothing has had a greater influence over my art than the Tarot itself. I first discovered the Tarot at the age of nine. I was captivated by the unique characters I saw on each card and studied the artwork intensely. My favorites were the old 19th century and medieval decks. While my classmates were drawing what children normally do, I was busy making my own little pictures of the fool or the magician. Over the years, I have made many attempts to create my own deck, but never completed more than a few cards each time. I held the ideas of my early random creations and revitalized them here in the Deviant Moon Tarot.
While this physical deck has taken over three years to complete, from an inspirational standpoint, Deviant Moon Tarot has been at least thirty years in the making. It is not only a testament to my art, but a record of my life.
View Any Card in Deviant Moon Deck:
MAJOR ARCANA
The Fool
The Magician
The High Priestess
The Empress
The Emperor
The Hierophant
The Lovers
The Chariot
Strength
The Hermit
Wheel of Fortune
Justice
The Hanged Man
Death
Temperance
The Devil
The Tower
The Star
The Moon
The Sun
Judgement
The World
WANDS
Ace of Wands
Two of Wands
Three of Wands
Four of Wands
Five of Wands
Six of Wands
Seven of Wands
Eight of Wands
Nine of Wands
Ten of Wands
Page of Wands
Knight of Wands
Queen of Wands
King of Wands
CUPS
Ace of Cups
Two of Cups
Three of Cups
Four of Cups
Five of Cups
Six of Cups
Seven of Cups
Eight of Cups
Nine of Cups
Ten of Cups
Page of Cups
Knight of Cups
Queen of Cups
King of Cups
SWORDS
Ace of Swords
Two of Swords
Three of Swords
Four of Swords
Five of Swords
Six of Swords
Seven of Swords
Eight of Swords
Nine of Swords
Ten of Swords
Page of Swords
Knight of Swords
Queen of Swords
King of Swords
COINS
Ace of Coins
Two of Coins
Three of Coins
Four of Coins
Five of Coins
Six of Coins
Seven of Coins
Eight of Coins
Nine of Coins
Ten of Coins
Page of Coins
Knight of Coins
Queen of Coins
King of Coins
Select a different deck to learn more:

8-Bit Tarot

African Tarot

Angel Tarot

Aquarian

Archeon

Art Nouveau

Art of Life

Cagliostro

Cary-Yale Visconti Tarocchi

Cat People

Cat's Eye

Celestial
Chinese

Chrysalis

Classic

Connolly

Cosmic

Crowley

Crow's Magick

Crystal Visions

Dark Exact

Deviant Moon

Dragon

Dreaming Way

English Magic Tarot

Epicurean Tarot Recipe Cards

Esoterico

Etteilla

Faerie Tarot

Fantastical Creatures

Fantastical Tarot

Fenestra

Feng Shui

Forest Folklore

Fradella

Gendron

Ghosts & Spirits

Gill

Goddess

Golden Thread Tarot

Gummy Bear

Haindl

Halloween

Hanson Roberts

Herbal

Hermetic

Ibis

Japaridze

Jolanda

Karma

Lovers Path

Magic Manga

Marseilles

Medicine Woman
Medieval Cat

Medieval Scapini

Melanated Classic Tarot

Merry Day

Modern Medieval

Morgan-Greer

Motherpeace Tarot

Mystic Mondays

Napo Tarot

New Century

Old English
Old Path

Omegaland

One World Tarot

Oswald Wirth

Paulina

Phantas-
magoric

Quick and Easy

Renaissance

Rider Waite

Royal Thai

Russian

Sacred Art

Sacred Rose

Salvador Dali

Santa Fe
Smith Waite Centennial

Spiral

Stairs

Stars Tarot

Starter

Sun and Moon

Swiss (1JJ)

Tapestry

Tarot of a Moon Garden

Tarot of Dreams

Tarot of the Spirit

Tarot of the Witches

The New Palladini Tarot

Ukiyoe

Universal Waite

Vampire Tarot

Vanessa

Visconti-Sforza

Whimsical

Winged Spirit Tarot

Zerner Farber Tarot