Browse Tarot Card Decks
Previous Deck:
Universal Waite
Next Deck:
Vanessa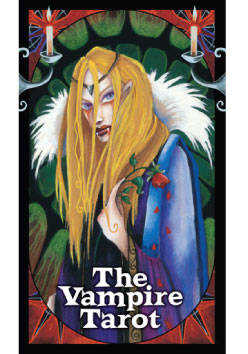 Vampire Tarot
Vampire Tarot offers formidable views into a world of darkness shrouded in mystery and beauty. Myths and legends of the devilish underworld are interpreted through exquisitely detailed paintings.
Vampire Tarot Deck Preview:
From the U.S. Games Vampire Tarot booklet:
The Vampire Tarot Introduction Tarot allows us to change our attitudes, to center our minds, and to distinguish the positive from the negative. Tarot enlightens us about the dark and light parts of our personalities, and it has advanced toward solutions to the various matters in question in our lives. Each card has a message, and guides us in decision-making process. Tarot highlights the essential elements of an instance, but final decisions ultimately belong us.

Using Your Tarot Deck Look at the cards one by one, take time to immerse yourself, and try to acknowledge the symbolism. Draw cards only when you feel inspired to do so. Full moon days and Mondays are auspicious for drawing. It is best consult Tarot when you are neither preoccupied or stressed. Your surroundings should be quiet and softly lit, possible. It is also helpful to light candles or incense. Set the cards on a neutral-colored cloth (black or white), and then begin your reading. Questions must be precise and clear. Then the cards have to be well-shuffled, cut, displayed and chosen with your l hand. If you shuffle the cards and one accidentally falls out of the deck, look at it; as it often indicates something important.

You can also draw cards for a person not present, if you have a letter or a photo from the person, or if you write the person's name on a piece of white paper. Quietly think of the abs person as you draw cards on his or her behalf. Keep your Tarot deck wrapped up it in clean white cloth and put it in a wood box with personal items (i.e. a ring, lock of hair, etc.). Remember that Tarot is a personal article, so do not lend.
View Any Card in Vampire Tarot Deck:
MAJOR ARCANA
The Fool
The Magician
The High Priestess
The Empress
The Emperor
The Hierophant
The Lovers
The Chariot
Strength
The Hermit
Wheel of Fortune
Justice
The Hanged Man
Death
Temperance
The Devil
The Tower
The Star
The Moon
The Sun
Judgement
The World
WANDS
Ace of Wands
Two of Wands
Three of Wands
Four of Wands
Five of Wands
Six of Wands
Seven of Wands
Eight of Wands
Nine of Wands
Ten of Wands
Page of Wands
Knight of Wands
Queen of Wands
King of Wands
CUPS
Ace of Cups
Two of Cups
Three of Cups
Four of Cups
Five of Cups
Six of Cups
Seven of Cups
Eight of Cups
Nine of Cups
Ten of Cups
Page of Cups
Knight of Cups
Queen of Cups
King of Cups
SWORDS
Ace of Swords
Two of Swords
Three of Swords
Four of Swords
Five of Swords
Six of Swords
Seven of Swords
Eight of Swords
Nine of Swords
Ten of Swords
Page of Swords
Knight of Swords
Queen of Swords
King of Swords
COINS
Ace of Coins
Two of Coins
Three of Coins
Four of Coins
Five of Coins
Six of Coins
Seven of Coins
Eight of Coins
Nine of Coins
Ten of Coins
Page of Coins
Knight of Coins
Queen of Coins
King of Coins
Select a different deck to learn more:

8-Bit Tarot

African Tarot

Angel Tarot

Aquarian

Archeon

Art Nouveau

Art of Life

Cagliostro

Cary-Yale Visconti Tarocchi

Cat People

Cat's Eye

Celestial
Chinese

Chrysalis

Classic

Connolly

Cosmic

Crowley

Crow's Magick

Crystal Visions

Dark Exact

Deviant Moon

Dragon

Dreaming Way

English Magic Tarot

Epicurean Tarot Recipe Cards

Esoterico

Etteilla

Faerie Tarot

Fantastical Creatures

Fantastical Tarot

Fenestra

Feng Shui

Forest Folklore

Fradella

Gendron

Ghosts & Spirits

Gill

Goddess

Golden Thread Tarot

Gummy Bear

Haindl

Halloween

Hanson Roberts

Herbal

Hermetic

Ibis

Japaridze

Jolanda

Karma

Lovers Path

Magic Manga

Marseilles

Medicine Woman
Medieval Cat

Medieval Scapini

Melanated Classic Tarot

Merry Day

Modern Medieval

Morgan-Greer

Motherpeace Tarot

Mystic Mondays

Napo Tarot

New Century

Old English
Old Path

Omegaland

One World Tarot

Oswald Wirth

Paulina

Phantas-
magoric

Quick and Easy

Renaissance

Rider Waite

Royal Thai

Russian

Sacred Art

Sacred Rose

Salvador Dali

Santa Fe
Smith Waite Centennial

Spiral

Stairs

Stars Tarot

Starter

Sun and Moon

Swiss (1JJ)

Tapestry

Tarot of a Moon Garden

Tarot of Dreams

Tarot of the Spirit

Tarot of the Witches

The New Palladini Tarot

Ukiyoe

Universal Waite

Vampire Tarot

Vanessa

Visconti-Sforza

Whimsical

Winged Spirit Tarot

Zerner Farber Tarot