Browse Tarot Card Decks
Previous Deck:
Vanessa
Next Deck:
Whimsical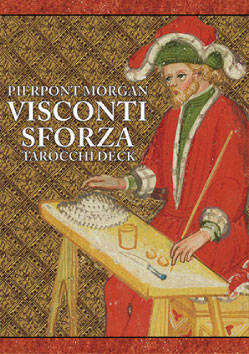 Visconti-Sforza
The Visconti-Sforza Tarot is a reproduction of a deck from the 15th Century, one of the oldest Tarot decks, featuring authentic and hauntingly beautiful medieval scenes with no text.
Visconti-Sforza Deck Preview:
From the U.S. Games Visconti-Sforza booklet:
Reproduction of the Pierpont Morgan Visconti-Sforzatarocchi deck is an important event for Tarot collectors and researchers of art history. These rare cards have been reproduced in authentic color tones from the extant Visconti-Sforza tarocchi deck dating from mid-fifteenth century Milan. Italy holds the honor of producing several of the earliest known hand-painted playing card packs that contain the 22 mystical and allegorical trump cards called trionfi.

The incomplete extant packs include 74 cards from the Visconti-Sforza tarocchi pack, 67 cards from the Cary-Yale Visconti tarocchi pack, and 48 cards from the Brera Gallery or Brambilla Visconti pack. artists in Ferrara and Florence also hand painted fifteenth century tarocchi cards. The connection of cards to the Visconti and Sforza families of fifteenth century Milan is based upon the heraldic devices and mottos appearing on the cards. the term tarocchi was used in Italy in the early sixteenth century, and quite probably in the late fifteenth century, to describe the complete 78 card deck consisting of 22 trionfi, or trump cards, and 56 suit cards.

The words tarocchi and tarocco are often used interchangeably although tarocchi is actually the plural of tarocco. The French word Tarot, a derivative of tarocchi, has come into widespread use in the English language. The term trumps is derived from the Latin triumphi. Arcanais a Latin word meaning mysterious or secret; the Italian word arcano, derived from the Latin, has the same meaning. The 22 trump cards are known today by Tarot deck collectors as the major arcana or Greater arcana cards, and each card depicts a symbolic, allegorical picture.

The trump cards also are known as atouts in French and tarocchi in Italian. The 56 suit cards, also known as the minor arcana or Lesser arcana cards, are divided into four suits of Swords, Wands (Batons, Staves, Scepters, or Clubs), Cups (Chalices), and Coins (Pentacles). Each suite comprises 14 cards consisting of King, Queen, Knight, Page, plus Pip cards numbered 10 to 1.
View Any Card in Visconti-Sforza Deck:
MAJOR ARCANA
The Fool
The Magician
The High Priestess
The Empress
The Emperor
The Hierophant
The Lovers
The Chariot
Strength
The Hermit
Wheel of Fortune
Justice
The Hanged Man
Death
Temperance
The Devil
The Tower
The Star
The Moon
The Sun
Judgement
The World
WANDS
Ace of Wands
Two of Wands
Three of Wands
Four of Wands
Five of Wands
Six of Wands
Seven of Wands
Eight of Wands
Nine of Wands
Ten of Wands
Page of Wands
Knight of Wands
Queen of Wands
King of Wands
CUPS
Ace of Cups
Two of Cups
Three of Cups
Four of Cups
Five of Cups
Six of Cups
Seven of Cups
Eight of Cups
Nine of Cups
Ten of Cups
Page of Cups
Knight of Cups
Queen of Cups
King of Cups
SWORDS
Ace of Swords
Two of Swords
Three of Swords
Four of Swords
Five of Swords
Six of Swords
Seven of Swords
Eight of Swords
Nine of Swords
Ten of Swords
Page of Swords
Knight of Swords
Queen of Swords
King of Swords
COINS
Ace of Coins
Two of Coins
Three of Coins
Four of Coins
Five of Coins
Six of Coins
Seven of Coins
Eight of Coins
Nine of Coins
Ten of Coins
Page of Coins
Knight of Coins
Queen of Coins
King of Coins
Select a different deck to learn more:

8-Bit Tarot

African Tarot

Angel Tarot

Aquarian

Archeon

Art Nouveau

Art of Life

Cagliostro

Cary-Yale Visconti Tarocchi

Cat People

Cat's Eye

Celestial
Chinese

Chrysalis

Classic

Connolly

Cosmic

Crowley

Crow's Magick

Crystal Visions

Dark Exact

Deviant Moon

Dragon

Dreaming Way

English Magic Tarot

Epicurean Tarot Recipe Cards

Esoterico

Etteilla

Faerie Tarot

Fantastical Creatures

Fantastical Tarot

Fenestra

Feng Shui

Forest Folklore

Fradella

Gendron

Ghosts & Spirits

Gill

Goddess

Golden Thread Tarot

Gummy Bear

Haindl

Halloween

Hanson Roberts

Herbal

Hermetic

Ibis

Japaridze

Jolanda

Karma

Lovers Path

Magic Manga

Marseilles

Medicine Woman
Medieval Cat

Medieval Scapini

Melanated Classic Tarot

Merry Day

Modern Medieval

Morgan-Greer

Motherpeace Tarot

Mystic Mondays

Napo Tarot

New Century

Old English
Old Path

Omegaland

One World Tarot

Oswald Wirth

Paulina

Phantas-
magoric

Quick and Easy

Renaissance

Rider Waite

Royal Thai

Russian

Sacred Art

Sacred Rose

Salvador Dali

Santa Fe
Smith Waite Centennial

Spiral

Stairs

Stars Tarot

Starter

Sun and Moon

Swiss (1JJ)

Tapestry

Tarot of a Moon Garden

Tarot of Dreams

Tarot of the Spirit

Tarot of the Witches

The New Palladini Tarot

Ukiyoe

Universal Waite

Vampire Tarot

Vanessa

Visconti-Sforza

Whimsical

Winged Spirit Tarot

Zerner Farber Tarot