Browse Tarot Card Decks
Previous Deck:
Visconti-Sforza
Next Deck:
Winged Spirit Tarot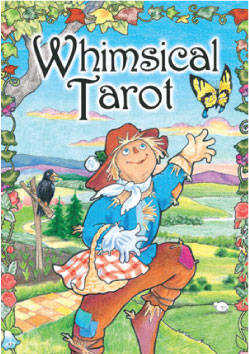 Whimsical
Whimsical Tarot is a delightful deck that draws its inspiration and wisdom from classic fairy tales, folk tales, fables and myths, featuring full pictorial scenes suitable for children and adults.
Whimsical Deck Preview:
From the U.S. Games Whimsical booklet:
The Whimsical Tarot is precisely what its name proclaims: a whimsical look at the Tarot. Granted, this may seem like a contradiction in terms. But make no mistake. This system not only works, it is serious Tarot at its best. Here's why...

Although the human brain is a database of sorts, it is a much more intricate system than any central processing unit money can buy. Yes, it stores data, facts, and other information. It will even sort them for you at the bat of an eye. But it does one thing that computers cannot. The brain thinks.

While this is very remarkable, indeed, the thinking process can also be to our detriment— especially when it comes to the Tarot. For one thing, working with the Tarot opens the doors to the spiritual world; a realm where conscious thought and action have little place. If we engage this process when reading cards, our personal thought patterns take over. The card messages get lost in the shuffle, and we never receive their full impact. If that's the case, then what do we do? Can we completely bypass the thinking process? No. We can, however, take steps to slow it down. And that's where the world of fairy tales and whimsy comes in.

Childhood stories are built of simple ideas, have simple plots, and teach simple lessons. The brain already knows this stuff, so there's nothing to sort through or think about. That being the case, the messages arrive undisturbed. Once we package them together, we can then engage the thinking process to determine how they affect us, and come up with a solution, if need be. It's as simple as that.
Although this system was initially designed for children and beginners, Tarot adepts will find it useful, too. It's easy-to-read style makes it the perfect spiritual tool for both meditation and daily advice.
View Any Card in Whimsical Deck:
MAJOR ARCANA
The Fool
The Magician
The High Priestess
The Empress
The Emperor
The Hierophant
The Lovers
The Chariot
Strength
The Hermit
Wheel of Fortune
Justice
The Hanged Man
Death
Temperance
The Devil
The Tower
The Star
The Moon
The Sun
Judgement
The World
WANDS
Ace of Wands
Two of Wands
Three of Wands
Four of Wands
Five of Wands
Six of Wands
Seven of Wands
Eight of Wands
Nine of Wands
Ten of Wands
Page of Wands
Knight of Wands
Queen of Wands
King of Wands
CUPS
Ace of Cups
Two of Cups
Three of Cups
Four of Cups
Five of Cups
Six of Cups
Seven of Cups
Eight of Cups
Nine of Cups
Ten of Cups
Page of Cups
Knight of Cups
Queen of Cups
King of Cups
SWORDS
Ace of Swords
Two of Swords
Three of Swords
Four of Swords
Five of Swords
Six of Swords
Seven of Swords
Eight of Swords
Nine of Swords
Ten of Swords
Page of Swords
Knight of Swords
Queen of Swords
King of Swords
COINS
Ace of Coins
Two of Coins
Three of Coins
Four of Coins
Five of Coins
Six of Coins
Seven of Coins
Eight of Coins
Nine of Coins
Ten of Coins
Page of Coins
Knight of Coins
Queen of Coins
King of Coins
Select a different deck to learn more:

8-Bit Tarot

African Tarot

Angel Tarot

Aquarian

Archeon

Art Nouveau

Art of Life

Cagliostro

Cary-Yale Visconti Tarocchi

Cat People

Cat's Eye

Celestial
Chinese

Chrysalis

Classic

Connolly

Cosmic

Crowley

Crow's Magick

Crystal Visions

Dark Exact

Deviant Moon

Dragon

Dreaming Way

English Magic Tarot

Epicurean Tarot Recipe Cards

Esoterico

Etteilla

Faerie Tarot

Fantastical Creatures

Fantastical Tarot

Fenestra

Feng Shui

Forest Folklore

Fradella

Gendron

Ghosts & Spirits

Gill

Goddess

Golden Thread Tarot

Gummy Bear

Haindl

Halloween

Hanson Roberts

Herbal

Hermetic

Ibis

Japaridze

Jolanda

Karma

Lovers Path

Magic Manga

Marseilles

Medicine Woman
Medieval Cat

Medieval Scapini

Melanated Classic Tarot

Merry Day

Modern Medieval

Morgan-Greer

Motherpeace Tarot

Mystic Mondays

Napo Tarot

New Century

Old English
Old Path

Omegaland

One World Tarot

Oswald Wirth

Paulina

Phantas-
magoric

Quick and Easy

Renaissance

Rider Waite

Royal Thai

Russian

Sacred Art

Sacred Rose

Salvador Dali

Santa Fe
Smith Waite Centennial

Spiral

Stairs

Stars Tarot

Starter

Sun and Moon

Swiss (1JJ)

Tapestry

Tarot of a Moon Garden

Tarot of Dreams

Tarot of the Spirit

Tarot of the Witches

The New Palladini Tarot

Ukiyoe

Universal Waite

Vampire Tarot

Vanessa

Visconti-Sforza

Whimsical

Winged Spirit Tarot

Zerner Farber Tarot