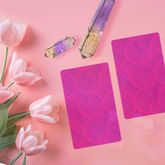 Choosing the Right Tarot Reading for Your Love Situation
Get to the heart of the matter in love and relationships

Not all Tarot card readings are created equally. Some readings are meant to help you with general insight, while others are designed to help you get to the heart of the matter in love and relationships.
Are you wondering if you'll ever find love? Are you curious if your love will last forever? Will your ex-boyfriend come back to you? We've created a variety of unique love Tarot readings to help answer these questions and any other questions you have on your quest for long-lasting love.
Two Hearts Tarot Reading
We've all experienced that "what just happened?!" moment in our love lives. One minute your romantic connection is warm and easy and then it suddenly goes cold. When this happens, you're confused and left asking: What changed between us? What are they thinking? How can I make this better? Clarity can be yours, because this Tarot reading gives you insight into how your lover is feeling in this very moment!
Get a Two Hearts Tarot Reading now »
Soulmate Tarot Reading
This Tarot spread for love helps you on your search to find your soulmate. Have you been asking yourself questions like: Is he my soulmate? Will we get married? When will I meet someone? If so, this reading will help guide you toward the infinite love you've been searching for.
Get a Soulmate Tarot Reading now »
Reconciliation Tarot Reading
Relationships are not always smooth sailing, and sometimes it can seem impossible to repair a wounded love connection. This reconciliation Tarot spread provides the advice and guidance needed as you attempt to restore a relationship that has gone awry. Put your relationship back on track -- before it's too late!
Get a Reconciliation Tarot Reading now »
Relationship Analysis Tarot Reading
Creating a successful relationship is not just about understanding your significant other, but it's also about having a grasp on all the factors at play in your relationship. This relationship Tarot spread explores the dynamics between you and your partner, as well as revealing issues that may affect your ability to sustain a long-term connection with this person.
Get a Relationship Analysis Tarot Reading now »
Love Quest Potentials Tarot Reading
One of the difficulties of finding love is knowing how to make the most of the romantic opportunities in front of you -- and how to avoid the internal and external obstacles in your path. This Tarot spread helps you uncover the factors influencing your love potential so that you can find success on your journey toward love.
Get a Love Quest Potentials Tarot Reading now »
Heartbreak Tarot Reading
Not all romantic encounters have a fairytale ending. During our pursuit of love, our hearts will inevitably get broken, but that doesn't mean we have to fall apart! This Tarot reading for a broken heart helps eliminate your suffering and empowers you to reclaim your personal power as you move on from that experience.
Get a Heartbreak Tarot Reading now »
Don't see a Tarot reading that fits your situation? Not to worry! Browse our catalog of love readings to find a spread that's perfect for YOU!