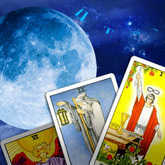 This is No Ordinary Full Moon ... find out what everyone's talking about
This Super Moon & Full Moon in Capricorn only happens once a year ... and it may be your best chance to make lasting changes.

It'll be impossible to not see and feel the impact of this weekend's Full Moon. Why? Because this Full Moon is a Super Moon. A Super Moon happens when the Moon is closest to Earth -- making it bigger, brighter and more powerful than ever!
Astrologers and divination scholars both agree, this is the best time to use this supercharged energy to discover the unique source of your strength. That's why we're putting one of most popular tools for personal empowerment ON SALE...

There is no better tool to light up your true mission in life than our exclusive Tarology Card Report. And in honor of the Super Moon, we're discounting it 15%! Your personalized report takes the powerful symbolism of Tarot and combines it with the art of Astrology and Numerology to identify which Tarot card guides and shapes who you are. You'll learn about strengths and weakness and learn how to illuminate your true self!
This weekend, more than ever, is the best time to use this highly charged energy to empower your life.