Tarot Card Meanings
Five of Wands
Identify your passions and build your mission around them.


PREVIOUS CARD
Four of Wands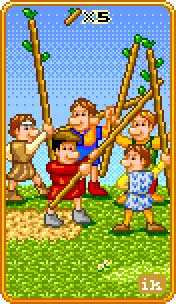 8-Bit Tarot deck © U.S. Games Systems, Inc.


NEXT CARD
Six of Wands
---
Watch Now: Five of Wands Video
Learn the meaning of the Five of Wands Tarot card in under a minute!
General Meaning
This suit, most often called "Wands" and sometimes called "Rods" or "Staves," represents initiative, ambition, drive and desire. This is the suit of enterprise and risk-taking.
The Five of this suit symbolizes struggles caused by ambitious maneuvering and a competitive urge. This could be about someone who is pushing his or her agenda forward at the expense of others.
There can be a fine line between demonstrating personal excellence and making others feel like losers. It may be necessary to ask yourself, who is it that really benefits when we all fight so hard for such small rewards? Am I serving a negative, manipulative agenda when I start applying battle metaphors to business?
Even when your only motive is to be the best you can be, it is understandable to want recognition for what is fine and unique about you. However, minimize the number of egos bruised in the process or your success will be celebrated alone.
In the Reversed Position
When team spirit fails despite all effort, your inner strength can pull you through. When the Five of Wands is reversed there is no way to completely overcome the competitive environment; you are unable to bond with potential partners in a team spirit. You must fall back on your own sense of mission and sense of survival to provide direction.
In the Advice Positon
The Five of Wands in this position encourages you to find your natural ambition. Identify what energizes you, what you would fight for and what you are passionate about -- even when you're tired or discouraged. Strive to make that the centerpiece of your mission.
This is how you find your livelihood and establish your path of service.
A powerful message is waiting for you! Get your Reconciliation Tarot Reading NOW...
Five of Wands card in all decks.

8-Bit Tarot

African Tarot

Angel Tarot

Aquarian

Archeon

Art Nouveau

Art of Life

Cagliostro

Cary-Yale Visconti Tarocchi

Cat People

Cat's Eye

Celestial

Chinese

Chrysalis

Classic

Connolly

Cosmic

Crowley

Crow's Magick

Crystal Visions

Dark Exact

Deviant Moon

Dragon

Dreaming Way

English Magic Tarot

Epicurean Tarot Recipe Cards

Esoterico

Etteilla

Faerie Tarot
Fantastical Creatures

Fantastical Tarot

Fenestra

Feng Shui

Forest Folklore

Fradella

Gendron

Ghosts & Spirits

Gill

Goddess

Golden Thread Tarot

Gummy Bear

Haindl

Halloween

Hanson Roberts

Herbal

Hermetic

Ibis

Japaridze

Jolanda

Karma

Lovers Path

Magic Manga

Marseilles

Medicine Woman

Medieval Cat

Medieval Scapini

Melanated Classic Tarot

Merry Day

Modern Medieval

Morgan-Greer

Motherpeace Tarot

Mystic Mondays
Napo Tarot

New Century

Old English

Old Path

Omegaland

One World Tarot

Oswald Wirth

Paulina

Phantas-
magoric

Quick and Easy

Renaissance

Rider Waite

Royal Thai

Russian

Sacred Art

Sacred Rose

Salvador Dali

Santa Fe

Smith Waite Centennial

Spiral

Stairs

Stars Tarot

Starter

Sun and Moon

Swiss (1JJ)

Tapestry

Tarot of a Moon Garden

Tarot of Dreams

Tarot of the Spirit

Tarot of the Witches

The New Palladini Tarot

Ukiyoe

Universal Waite

Vampire Tarot

Vanessa

Visconti-Sforza

Whimsical

Winged Spirit Tarot

Zerner Farber Tarot