Tarot Card Meanings
Four of Cups
Renounce the circumstances that have brought you to a standstill.


PREVIOUS CARD
Three of Cups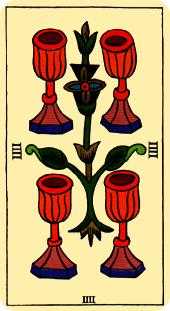 Marseilles deck © U.S. Games Systems, Inc.


NEXT CARD
Five of Cups
---
Watch Now: Four of Cups Video
Learn the meaning of the Four of Cups Tarot card in under a minute!
General Meaning
The suit often named Cups is also referred to as Chalices or Hearts. It represents the emotional and psychic aspects of life -- fantasy, imagination, feelings, love.
A Four in this suit refers to a restless time, where a person may have become dissatisfied with life, and emotionally uncomfortable. Feeling stagnated, longing for change, the heart ponders its options ... as it should.
In the Reversed Position
The Four of Cups reversed indicates that you may not be making the reasons for some reluctance you are feeling clear to yourself or others. Some part of you is resisting the flow of events, but you are not admitting your own part in this.
It may be manifesting as a sort of foot-dragging or unmotivated, passive-aggressive stalling. Recognize this mood as a symptom of a deeper dissatisfaction and come clean to yourself about your real feelings. There is something to be learned.
In the Advice Positon
The Four of Cups in this position wants you to take a clear look at how stalled or distracted you have become. You may have been bogged down by negativity, hopelessness or a sense of limitation. It is not to your advantage, however, to see the world through such a narrow lens. Cut through some of the forces that undermine you, causing you to feel incapable. Sometimes you have to define what you are "for" by defining what you are "against." Decide that you are not as heavy as the cup of earth, not placid as is the cup of water, not turbulent as is the cup of air. Rather, now may be the time to be as aroused as is the cup of fire. This arousal may constitute liberation from the circumstances that may have brought you here.
A powerful message is waiting for you! Get your Reconciliation Tarot Reading NOW...
Four of Cups card in all decks.

8-Bit Tarot

African Tarot

Angel Tarot

Aquarian

Archeon
Art Nouveau

Art of Life

Cagliostro

Cary-Yale Visconti Tarocchi
Cat People

Cat's Eye

Celestial

Chinese

Chrysalis

Classic

Connolly

Cosmic

Crowley

Crow's Magick
Crystal Visions

Dark Exact

Deviant Moon

Dragon

Dreaming Way

English Magic Tarot

Epicurean Tarot Recipe Cards

Esoterico

Etteilla

Faerie Tarot

Fantastical Creatures

Fantastical Tarot

Fenestra

Feng Shui

Forest Folklore

Fradella

Gendron

Ghosts & Spirits

Gill

Goddess

Golden Thread Tarot

Gummy Bear

Haindl

Halloween

Hanson Roberts

Herbal

Hermetic

Ibis

Japaridze

Jolanda

Karma

Lovers Path

Magic Manga

Marseilles

Medicine Woman

Medieval Cat

Medieval Scapini

Melanated Classic Tarot

Merry Day

Modern Medieval

Morgan-Greer

Motherpeace Tarot

Mystic Mondays

Napo Tarot

New Century

Old English

Old Path

Omegaland

One World Tarot

Oswald Wirth

Paulina

Phantas-
magoric

Quick and Easy

Renaissance

Rider Waite

Royal Thai

Russian

Sacred Art

Sacred Rose

Salvador Dali

Santa Fe

Smith Waite Centennial

Spiral

Stairs

Stars Tarot

Starter

Sun and Moon

Swiss (1JJ)

Tapestry

Tarot of a Moon Garden

Tarot of Dreams

Tarot of the Spirit

Tarot of the Witches

The New Palladini Tarot
Ukiyoe

Universal Waite

Vampire Tarot

Vanessa

Visconti-Sforza

Whimsical

Winged Spirit Tarot

Zerner Farber Tarot