Tarot Card Meanings
Four of Swords
Concentrate less on the opinions and biases of others. Be open to intuition and insight from a deeper source.


PREVIOUS CARD
Three of Swords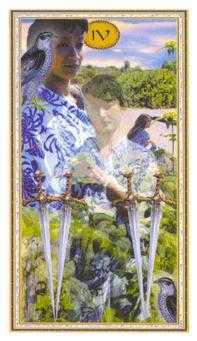 Gendron deck © U.S. Games Systems, Inc.


NEXT CARD
Five of Swords
---
Watch Now: Four of Swords Video
Learn the meaning of the Four of Swords Tarot card in under a minute!
General Meaning
A Four in this suit sends a message to take some time out, surrendering worldly concerns and retreating to a sheltered place of serenity away from the hustle and bustle. The oldest Tarot card images suggest a visit to the tombs of our ancestors, a place to contemplate your mortality and breathe in the dust of those who brought you here.
A vision quest or pilgrimage to one's own center allows us to contemplate our roots, values and goals. Here you will see your place in the flow of time ... and unfolding generations.
In the Reversed Position
The Four of Swords reversed suggests that even though solitary contemplation can be a great pleasure, it should be balanced with appropriate interpersonal communications. Isolation in this situation can, in some cases, be counterproductive.
It may be necessary to seek help or counsel to intervene with an energy-draining pattern. Try to supply yourself with enough human contact, preferably of a therapeutic or, at the very least, a supportive kind, so if you get stuck in an emotionally painful position, you will have a safety net in place.
In the Advice Positon
The Four of Swords in this position strongly urges that you keep your own counsel in this situation. There may be too much fear and hostility in the environment for you to be heard. It might be that your ideas are not ripe enough or that you are not ready to listen to feedback from others.
If you spend more time in contemplation, you may successfully disregard the emotional occupations and biases of others. For now, closely observe inner events. The time for sharing will come later.
A powerful message is waiting for you! Get your Reconciliation Tarot Reading NOW...
Four of Swords card in all decks.

8-Bit Tarot

African Tarot

Angel Tarot

Aquarian

Archeon
Art Nouveau

Art of Life

Cagliostro

Cary-Yale Visconti Tarocchi

Cat People

Cat's Eye

Celestial

Chinese

Chrysalis

Classic

Connolly

Cosmic

Crowley

Crow's Magick

Crystal Visions

Dark Exact

Deviant Moon

Dragon

Dreaming Way
English Magic Tarot

Epicurean Tarot Recipe Cards

Esoterico

Etteilla

Faerie Tarot

Fantastical Creatures

Fantastical Tarot

Fenestra
Feng Shui

Forest Folklore

Fradella
Gendron

Ghosts & Spirits

Gill

Goddess

Golden Thread Tarot

Gummy Bear

Haindl

Halloween

Hanson Roberts

Herbal
Hermetic

Ibis

Japaridze

Jolanda

Karma

Lovers Path

Magic Manga

Marseilles

Medicine Woman
Medieval Cat

Medieval Scapini

Melanated Classic Tarot

Merry Day

Modern Medieval

Morgan-Greer

Motherpeace Tarot

Mystic Mondays

Napo Tarot

New Century

Old English

Old Path

Omegaland

One World Tarot

Oswald Wirth

Paulina

Phantas-
magoric

Quick and Easy

Renaissance

Rider Waite

Royal Thai

Russian

Sacred Art

Sacred Rose

Salvador Dali

Santa Fe

Smith Waite Centennial

Spiral
Stairs

Stars Tarot

Starter

Sun and Moon

Swiss (1JJ)

Tapestry

Tarot of a Moon Garden

Tarot of Dreams

Tarot of the Spirit

Tarot of the Witches
The New Palladini Tarot

Ukiyoe

Universal Waite

Vampire Tarot

Vanessa
Visconti-Sforza

Whimsical

Winged Spirit Tarot

Zerner Farber Tarot